CONNECT WITH US
SUBSCRIBE TO OUR EMAILS
The latest news and information
First UMC takes to streets with "Got Ashes?"
February 19, 2013
Spearheaded by First United Methodist Church and the LSU Wesley Foundation, the imposition of ashes last Wednesday became an evangelical experiment when both groups "took to the streets" of Baton Rouge with this important Lenten ritual.
Those administering ashes stood at the downtown corner of North Boulevard and Third Street, a local coffee shop and the Free Speech Alley located on LSU's campus. Volunteers held signs saying, "Got Ashes?"
"What we offered was nothing new," said Rev. Katie McKay Simpson, associate pastor for First UMC. "There is a movement of churches all over the country that have begun bringing these ritual acts of the church outside of sanctuary walls. We have begun to realize that Lent is not just a time to return to faith-based self-focus. The very acts we participate in on Ash Wednesday call us to claim once again God's grace for every human being."
McKay Simpson worked with Rev. Susie Thomas, also an associate pastor for First UMC, and Rev. Drew Sutton, campus minister for the LSU Wesley Foundation, to organize the outreach event.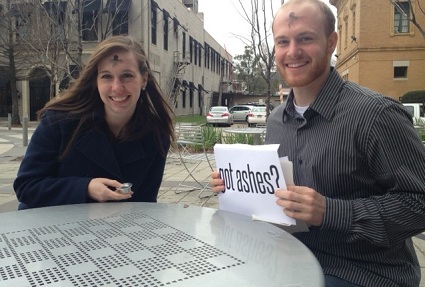 CONNECT WITH US
SUBSCRIBE TO OUR EMAILS
The latest news and information