CONNECT WITH US
SUBSCRIBE TO OUR EMAILS
The latest news and information
Dillard President on Black History Makers list
February 19, 2013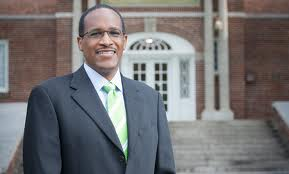 New Orleans - Walter M. Kimbrough, president of Dillard University, joins 99 other African American history makers and industry leaders who are being honored during Black History Month by NBC's theGrio.com. The list was announced on the "Today" show on NBC News. This is the fourth year that NBC's the Grio.com has recognized African American industry leaders who are making a difference in the lives of others in their communities and beyond.
Honorees are selected from various categories including activism, arts, business, education, health, media, politics, science and technology, pop culture and sports. Kimbrough is the only university president recognized. He joins other nationally known figures such as Susan Rice, the U.S. Ambassador to the United Nations; Robin Roberts, co-host of "Good Morning America"; and Michael Strahan, former New York Giants defensive end and co-host of "Live! With Kelly and Michael," to name a few.
Kimbrough, who is among the youngest college presidents in the nation, is known for his active use of social media to engage and stay connected with students. With just seven months at Dillard's helm, he has already begun making strides in the New Orleans community and providing thought leadership at Dillard by bringing high-profile speakers to campus such as Michelle Alexander, author of The New Jim Crow: Mass Incarceration in the Age of Colorblindness, and Tavis Smiley and Cornel West. Both events drew standing-room only audiences from New Orleans and surrounding communities.
In addition to his latest recognition, Kimbrough has received numerous honors and awards. He recently made the New Orleans Magazine list of the top 25 People to Watch in 2012. And in 2010, he made the coveted Ebony Magazine Power list of the 100 doers and influencers in the African American community, joining the likes of President and Mrs. Obama, Jay-Z, Richard Parsons, Tyler Perry, Debra Lee, Michael Jordan, and Tom Joyner. In 2009, he was named one of "25 To Watch" by Diverse Issues in Higher Education.
Kimbrough has written widely on the role of fraternities and sororities in education, particularly in the experiences of students of color. His book, Black Greek 101: The Culture, Customs, and Challenges of Black Fraternities and Sororities, has won popular acclaim and is now in its tenth printing. He has also been recognized for his extensive research and writing on African American men in college. "The Black Male Initiative" he created at Philander Smith College has become a model for similar programs nationwide.

CONNECT WITH US
SUBSCRIBE TO OUR EMAILS
The latest news and information