CONNECT WITH US
SUBSCRIBE TO OUR EMAILS
The latest news and information
Young Adults Invited to Apply for Mission Program
January 22, 2013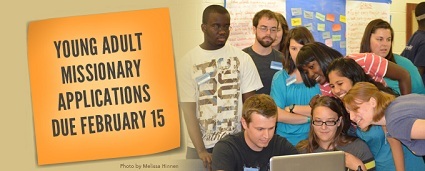 Young adults may now apply for the 2013 class of Mission Interns and US-2s. Feb. 15 is the deadline to submit application materials for these long-term mission assignments through the United Methodist General Board of Global Ministries.
Mission Interns will now commit to 25 months of service that include 20 months of international service, followed by two and a half months of integration and interpretation in their home country. US-2s will continue to commit to two years of service in the United States.
Young adults are encouraged prayerfully to consider applying for these programs if they:
are between the ages of 20 and 30,
have a bachelor's degree or equivalent life experience,
feel called to address the root causes of injustice,
are open to new settings and new perspectives,
want hands-on experience living in Christian community, and
feel called to serve with, not to or for others.
Organizations interested in being a placement site are encouraged to apply before March 24.
For more information and an application, please email the young adult mission service office. Please share this information with any young people whom you think might be interested.
The full press release includes program details and is available on the Global Ministries website www.umcmission.org.

CONNECT WITH US
SUBSCRIBE TO OUR EMAILS
The latest news and information