CONNECT WITH US
SUBSCRIBE TO OUR EMAILS
The latest news and information
North Cross UMC leads Christmas Cookie Crusade
January 22, 2013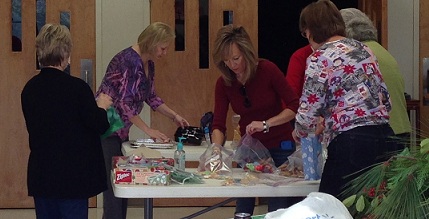 As part of their Christmas Eve celebration, North Cross United Methodist Church in Madisonville led a "Christmas Cookie Crusade" immediately after each of their services.
Revs. Lamar and Erin Oliver got the idea for the project while driving home from the church's 11 p.m. serve on Christmas Eve in 2011. They noticed that there were so many places open for business. Erin's commented, "I just wanted to go in and give each of these people a dozen cookies as a way to say that someone is thinking of you on this evening."
When the ideas was shared with the congregation on the first Sunday of Advent, members began to plan and ultimately provided more than 200 dozen cookies and other goodies. Volunteers gathered at the church on Christmas Eve morning to organize them into care packages, with a postcard of "thanks" included in each bag. Members delivered the bags to gas stations, restaurants, emergency veterinarians, tollbooth workers, police officers, fire houses, first responder stations, hospitals and security guards at private businesses.
One family traveling to Georgia for Christmas even baked a few dozen cookies to take to the local fire department over there. Church members had so much fun they are already making plans for the 2013 Christmas Cookie Crusade.
CONNECT WITH US
SUBSCRIBE TO OUR EMAILS
The latest news and information