CONNECT WITH US
SUBSCRIBE TO OUR EMAILS
The latest news and information
Bethany UMC tackles human trafficking
December 19, 2012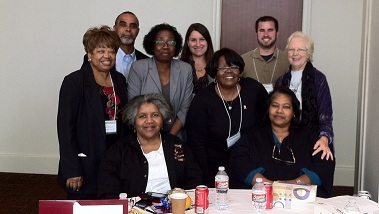 The newly formed Human Trafficking and Domestic Violence Committee for Bethany United Methodist Church recently participated in the first New Orleans Human Trafficking Working Group Conference. The conference, "Preventing Human Trafficking at the Super Bowl and Beyond: Mobilizing the New Orleans Community to Prevent and End Trafficking in Our Midst," focused on strategies to raise awareness of this serious problem.
Holly Burkhalter of the International Justice Mission spoke on the progress that has been made in the war against trafficking on the international level. Examples of strategies used during last year's Super Bowl held in Dallas provided discussion and potential approaches for the New Orleans Super Bowl in 2013.
Rev. Lawrence P. Gaines, pastor of Bethany UMC, initiated the Human Trafficking and Domestic Violence ministry after attending the 2012 Young Clergy Leadership Forum held in Washington, D.C. The committee will focus on raising awareness of human trafficking and domestic violence through legislative advocacy, the promotion of community awareness and by providing spiritual, emotional and physical support for victims of human trafficking.
Plans are already being made to hold seminars and conferences for congregations and communities. Pictured are committee members, seated, Alice Stiward and Edwina McBride, and standing, Rev. Inez Williams, Karen Snow, Marilyn Roberts and Rev. Patricia Bates. Standing in rear are Dr. Anthony Bouligny, Erica Johnson (national organizer for Women and Children for the General Board of Church and Society) and Jay Campbell (Wesley Seminary intern). Not pictured is Connie Bouligny.

CONNECT WITH US
SUBSCRIBE TO OUR EMAILS
The latest news and information