CONNECT WITH US
SUBSCRIBE TO OUR EMAILS
The latest news and information
Extension ministry pastor leads agency serving homeless
November 06, 2012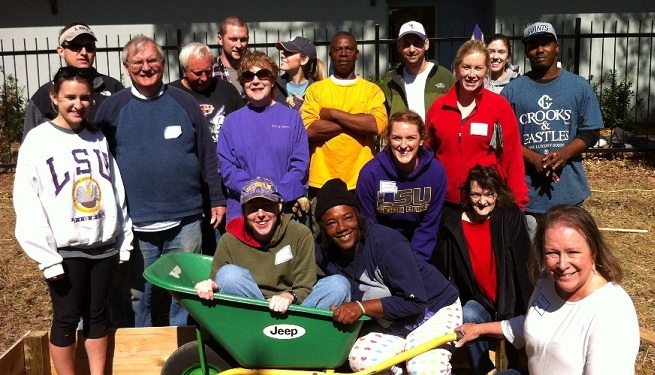 Members of First United Methodist Church, Baton Rouge and clients of CAAH are shown after installing a community garden.
Rev. Randy Nichols, serving through Louisiana Conference extension ministries, heads the Capital Area Alliance for the Homeless in Baton Rouge . . .
Rev. Randy Nichols believes strongly that he is connected to his United Methodist roots and John Wesley's tenets of social justice by heading an agency that serves the homeless in his community.
Serving through the Louisiana Annual Conference in an extension ministry, Nichols is the executive director of the Capital Area Alliance for the Homeless (CAAH) in Baton Rouge, La.
"Wesley encouraged us to be involved in social justice and outreach. Extension ministry gives me an opportunity to connect with this vital Wesleyan tenet of faith," said Nichols.
Rev. Don Cottrill, director of connectional ministries for the Louisiana Conference, said, "Pastoral ministry is not limited to the local church. Persons called to ordained ministry—as well as laity—serve in the name of Christ in all aspects of the community and the world. Because of that, it is an 'extension' of the work of the church beyond the walls of our buildings." Nichols is among 37 elders in full connection and four provisional elders appointed through the conference to extension ministries.
The alliance– a coalition of 35 service providers – was incorporated in 1996 to coordinate a collaborative effort in addressing homelessness and to serve as HUD's continuum of care for the region. CAAH members provide emergency shelter, transitional housing, and permanent supportive housing for chronically homeless individuals, persons with a range of disabilities and families experiencing homelessness for the first time.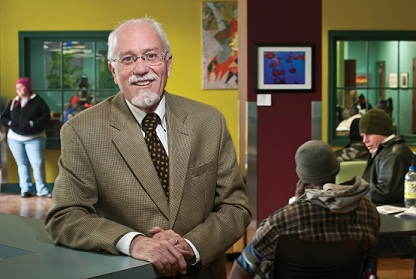 Rev. Randy Nichols shown inside the One Stop Homeless Services Center.
Members also offer services including outreach to the homeless, behavioral health referrals, substance abuse treatment, veterans services, life skills training, job training/placement, youth shelters and literacy/GED classes. Since 1996, CAAH agencies have received over $22,000,000 from the U.S. Department of Housing and Urban Development's McKinney-Vento Supportive Housing Program.
"Many of the alliance's members are faith-based agencies, and we have congregations that partner with us in ministry to homeless citizens," said Nichols. Connections for Life and HOPE Ministries, both United Methodist-based agencies helping the underserved of Baton Rouge, are members of the alliance.
Several United Methodist churches in the Baton Rouge area have volunteered for the alliance through service projects, fundraising and collaborative efforts. Blackwater UMC provides financial assistance to partially fund the salary of a volunteer coordinator for CAAH.
First UMC in Baton Rouge has helped with the installation of a community garden and a bike donation program. "Two children from the church gave the proceeds from their lemonade stand as a donation," said Nichols. This year's confirmation class for University UMC in Baton Rouge prepared food bags to give to shelter residents. The church is also assisting with the early stages of planning a collaboration to assist with homeless prevention and utility assistance.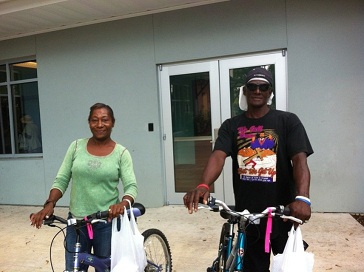 Two of the center's clients are shown on donated bicycles refurbished by Bob Fraser of First UMC in Baton Rouge.
CAAH members have responded to the shortage of affordable housing in Baton Rouge by developing units targeted to the homeless. The alliance and its member agencies have completed 144 units of affordable housing since 2007. In 2008, CAAH received funding from the Louisiana Department of Social Services to re-house evacuees of Hurricanes Katrina and Rita. A total of 320 households were assisted. In 2009, nine members received Homeless Prevention Re-housing Program funds through the America Recovery and Reinvestment Act and are now working to alleviate housing crises that have occurred as a result of the recession.
The alliance's One Stop Homeless Services Center reaches out to and welcomes some of the community's most vulnerable residents in a way not unlike churches. CAAH, in conjunction with Gulf Coast Housing Partnership and St. Vincent DePaul Agency, secured land and funding (over $8,000,000) to build and operate a One Stop Homeless Services Center, an effort to collaborate more effectively between agencies and to ease access for homeless persons into the continuum of care's services.
In addition to the construction and operating dollars, the project has in-kind donations by service providers to pay for the existing services. The One Stop Homeless Services Center brings under one roof a number of current and new alliance programs including:
-Day center services (e.g. shower, laundry, telephone, mail, etc.)
-Primary medical care
-Behavioral health care (addiction and mental health services)
-Legal services
-Mainstream resources enrollment (e.g. SSI, food stamps)
-Vocational rehabilitation
-Employment assistance
-Housing First (rapid re-housing services)
-Housing location services in the private sector and homeless housing programs
-Expanded training and employment services
CAAH coordinates the work of its members in the One Stop setting. The design includes separate providers delivering integrated services.
"The One Stop Homeless Services Center reaches out and welcomes some of our community's most vulnerable residents in a way not unlike churches," explained Nichols. "Through Capital Area Alliance for the Homeless' work, I am connected to the roots and the tenets of social holiness."
CONNECT WITH US
SUBSCRIBE TO OUR EMAILS
The latest news and information