CONNECT WITH US
SUBSCRIBE TO OUR EMAILS
The latest news and information
Luke's House clinic celebrates fifth anniversary
October 10, 2012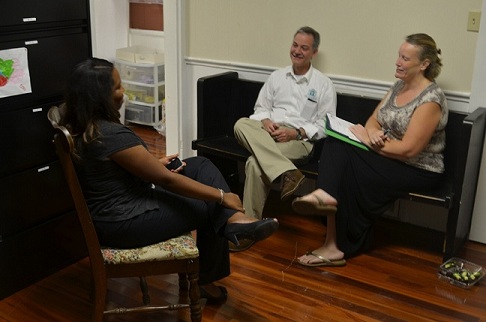 Erica Washington, chair for Luke's House board of directors, meets with James Comeaux, a member of Rayne Memorial and secretary/ treasurer for the board, and Lisa Lynde, executive director of Luke's House. The 501 (c) (3) is a New Orleans based clinic providing free health care to the area's underserved population.
Nearly five years ago, the late Rev. Connie Thomas stood with tears in her eyes as nurses and doctors treated patients during the opening of a free clinic housed in the family life center of Mt. Zion United Methodist Church in New Orleans. "This is cutting edge ministry. Here is a chance for United Methodists to do hands on work, helping those in need as they recover from Hurricane Katrina," said Thomas, referring to the new clinic known as "Luke's House."
The idea of opening a free clinic came from members of volunteer work teams from St. Marks UMC in Lincoln, Nebraska. A total of 10 teams from Lincoln had been housed at Rayne Memorial UMC while gutting homes through the UMCOR supported Louisiana Conference disaster recovery ministry. Rev. Carol Winn Crawford, pastor of Rayne Memorial, got to know members of the St. Mark's volunteer group. Their outreach mission, Clinic with a Heart, came up in conversation. Members of one of the groups met with with Rayne's outreach committee to talk about the clinic and how it works. As exploration continued, the General Board of Global Ministries sent advisor Ted Warnock to assist the group in planning. Warnock spent four months with the group, helping the board complete the foundational work on forming the clinic, exploring the issues of liability and incorporation.
Private donations and a grant for $84,000 from the Methodist Health System Foundation in Louisiana provided a core base of funds to launch the clinic.
Today, Luke's House is located at 2023 Simon Bolivar Ave. in New Orleans. The clinic is housed in building space on loan from the New Orleans District and the Louisiana United Methodist Conference. The clinic is an independent 501(c)( 3) that continues to operate in partnership with the Louisiana State University Medical School.
Volunteers from Mt. Zion, Rayne Memorial and other local churches still play a major role at the clinic, helping process patients and providing a sympathetic ear.
James Comeaux, a member of Rayne Memorial and secretary/ treasurer for the board of directors of Luke's House, is passionate about the importance of the free clinic. Patients are always "incredibly grateful," said Comeaux. "For most, this is really their only medical option. If Luke's House did not provide these services, most of the people we see would have gone to the emergency room for a non-emergency room visit. And the average visit to the ER costs around $1,000."
Observation rooms inside the clinic offer private space for medical examinations
Typical services for clients include giving vaccinations, certain lab tests and triage needs. Vouchers are given to help pay for the cost of prescriptions. "We see alot of folks with chronic health conditions such as diabetes and high blood pressure," said Lisa Lynde, executive director for Luke's House.
There has also been an upswing in the number of patients being seen for depression and anxiety. "Cuts in state funding and the limited accessiblity to resources in post-Katrina New Orleans has seen a reduction in mental health services. It's been reported that the suicide rate is up 300 percent," said Lynde, who is proud that Luke's House is the only free clinic providing free mental health services in the area.
The downturn of the economy leads to financial problems, domestic violence and substance abuse, Lynde added. All of these factors can lead to an increase in anxiety and depression.
Dr. Bob Lancaster, a psychiatrist and member of Rayne Memorial, devotes many hours to the treatment of patients who come to Luke's House with mental issues. "Dr. Bob is here every Tuesday afternoon seeing clients. He has been tireless in his efforts," said Erica Washington, chair of the clinic's board of directors.
A Luke's House fifth anniversary birthday reception for Dr. Lancaster is being held Nov. 13 at 6 p.m. at the clinic on Simon Bolivar Ave.The reception is one of several special events marking the fifth anniversary of the clinic.
The grand finale in this series of celebrations is a ribbon cutting, awards ceremony and Friends of Luke's House reception slated for Nov. 10 at 2 p.m. at the clinic.
This celebration of the continued success of Luke's House means a lot to those who keep services going at the clinic. "We are so grateful that so many lives have been touched and that the underserved of New Orleans are provided access to free medical care in our facility," said Lynde. She is particularly proud of an award that was given to the clinic that was engraved with the following sentiment: "In honor of your dedication to the health and well-being of all people, especially the vulnerable." "We are truly a doorway to health care," added Lynde.
Supporters are encouraged to participate in an ongoing fifth Anniversary capital campaign entitled "Friends of Luke's House." A $250 donation allows donor recognition on a plaque that will be placed in the clinic waiting room. Payments are accepted online at JustGive.org (
https://www.justgive.org/giving/donate.jsp?ein=26-0332262
). Checks payable to "Luke's House Clinic" are also accepted. Donations may also be made in honor of persons. 501(c)(3) donation letters are given for acknowledgement as well.
CONNECT WITH US
SUBSCRIBE TO OUR EMAILS
The latest news and information