CONNECT WITH US
SUBSCRIBE TO OUR EMAILS
The latest news and information
ERTs return 'again and again' to help
October 10, 2012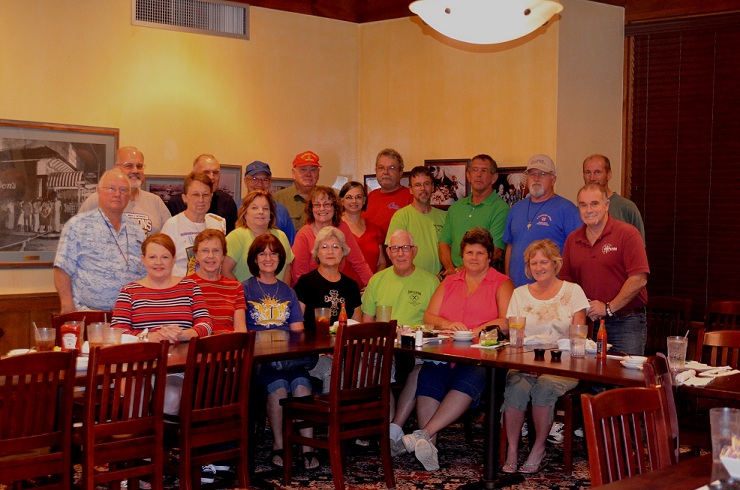 Two ERT teams from Texas serving in Braithwaite and LaPlace gather for a meal after working on Isaac damaged homes.
The heart and soul of The United Methodist Church is steeped in the Wesleyan philosophy of "doing good" wherever possible. Early Response Teams are fueled by this directive and by Christ's example when they respond to help those in need in the wake of disasters like flooding, tornados and hurricanes.
These trained responders are passionate about what they do. Following closely behind first responders, they move in to tarp roofs, remove trees and deliver emergency supplies like UMCOR cleaning buckets and health kits.
In the wake of Hurricane Isaac, which struck the coast of Louisiana on Aug. 29, ERTs from within the Louisiana Conference and from throughout the connection arrived to play their very important role in the state's recovery.
Two of these teams hailed from Texas--one from the Southwest Texas Conference and the other from the Texas Conference.
The Rev. Marilyn Roeder, pastor of First UMC in Victoria, Tex. and National VIM coordinator for the Southwest Texas Conference, led an ERT team to LaPlace, La. where some of the most significant wind and flood damage occured. Although the majority of the members of her team hailed from the Victoria District, New Orleans area residents Leanna and Philip Mohr were also working with the group.
This special connection with the Texas team began when Joyce Mohr, Philip's mother, was faced with a flooded home in the wake of Hurricane Katrina seven years ago. The Victoria team made several trips to New Orleans to help Mohr in gutting and rebuilding her Lakeview home. "The team didn't just come and go," said Leanna Mohr. "They practically adopted Joyce. Every member of the team wrote letters to her. They made a special commemorative quilt and a scrapbook for Joyce."
The team even came to Louisiana, gathered up Joyce, and brought her to Victoria to visit her new "Texas friends." "As Joyce would say, I have more friends in Texas than I do in New Orleans," said Leanna. Joyce had shown the team her appreciation by providing cookies, sandwiches and coffee to the workers on a daily basis. "She would sit and talk with team members, and even brought them Mardi Gras beads to take home," said Philip Mohr.
For ERT members, the "talking" part of disaster response work is essential. According to the Rev. Clay Whitaker, leader for the Texas Conference team, "listening" is the most important part of disaster response. "Early Response Teams always have designated listeners on any project. But most often, every member of the team ends up playing that key role for the people we are serving," said Whitaker. In everything we do, we strive to be the presence of Christ. When people have lost homes, jobs and even loved ones, more than anything else, they need to talk about their losses," he added.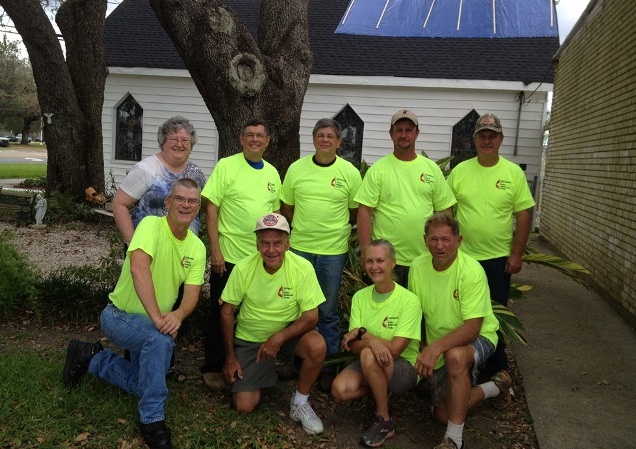 An Early Response Team with members from Louisiana Memorial, First Denham and Trinity UMCs tarped the roof of Belle Chasse UMC. Rev. Becky Connor, pastor, is pictured with the team.
The client being served by Whitaker's team in hard hit Braithwaite is dealing with "total emotional upheaval," he said. "Her family has lived in the town for generations. She has helped all of her kids build homes there. Because the flooding was so bad, none of the children want to come back. She is devastated."
Whitaker, pastor of Old River Terrace UMC in Channelview, Tex.and director of all ERT training for the Texas Conference, emphasized that every disaster has its own distinct characteristics. "With a tornado, you might only have five minutes notice to get out of harm's way. With a hurricane, there is usually time to evacuate or leave. Wildfires are unusual because they just stay and stay. No matter the disaster, they all leave an indelible mark on the survivors," he explained.
At a rare moment of relaxation, the two Texas teams came together at a New Orleans restaurant to enjoy a meal of Louisiana seafood and bread pudding, a local favorite. After the meal, Roeder stood up and shared the story about Joyce Mohr and the relationship forged through the groups ERT experiences. She also paid tribute to a very special member of the team named Phyllis, who passed away shortly after Hurricane Ike hit Texas in 2008.
"We liked to call Phyllis the 'Energizer Bunny.' Although she was in her late 70's, she never missed a mission. She made sandwiches for us every morning and lifted our spirits. Her son and daughter-in-law thought she had no business doing this kind of volunteer work, but changed their minds when they saw how much she received from reaching out to others," said Roeder.
One ERT member said, "We come back, again and again, because we get more out of this than we give."
CONNECT WITH US
SUBSCRIBE TO OUR EMAILS
The latest news and information