CONNECT WITH US
SUBSCRIBE TO OUR EMAILS
The latest news and information
Disaster response teams needed for Isaac recovery
September 20, 2012
Give to the Louisiana Conference Bishop's Appeal!
Register for Disaster Response team here!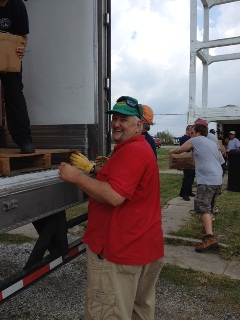 Volunteers from Trinity United Methodist Church offload cleaning buckets and health kits from the UMCOR Sager Brown Depot in Baldwin, La. Rev. Dave Carlton, pastor, smiles at the camera.
The Rev. Dave Carlton, pastor of Trinity United Methodist Church in Buras, La., watched television news reports of Hurricane Isaac's devastating impact on Plaquemines Parish from a hospital room in Natchez, Miss.
Carlton was on an overnight trip to Birmingham, Ala. and stopped to eat lunch in Mississippi. When he stood up from the meal, Carlton felt dizzy.
"Although it turned out to be a minor health issue, I wound up in the hospital. I felt helpless as I watched reports about the devastation in Plaquemines Parish. All I could think was, 'All of my people are down there.' And I only had enough clothes for an overnight stay. I felt like I was reliving Hurricane Katrina," said Carlton.
Returning to Buras was a difficult task. Highway 23, the main road leading to the town, remained covered for weeks after Isaac hit the low lying area. "Until last week, the only way in to Buras was to go by convoy on the levee. And you could only travel on the levee between 6-9 a.m. and 5-7 p.m. every day," said Carlton.
Throughout the whole ordeal, Carlton kept in touch with his congregation which had evacuated and "scattered from Georgia to Florida." Trinity church member Mark Plumer, who serves as chief of detectives for Plaquemines Parish, helped his pastor with keeping that vital line of communication open.
"Mark texted me regularly with important information on roads and conditions. I would consolidate the updates and send them out to every member of my congregation that owns a cell phone," said Carlton, who laughed when he added that his cell phone bill was "pretty high" this month.
'Things are going to be alright!'
Within 78 hours of the storm, an 18-wheeler from the UMCOR Sager Brown Depot in Baldwin, La. arrived in Buras with 1,200 cleaning buckets and 2,000 health kits. Despite the high waters on Highway 23, the truck driver slowly navigated the route leading into the hard hit area.
"He had to come through 22 inches of water, doing a great job of staying between markers that indicated where the road was located. The truck dropped off some of the supplies in Boothville where the National Guard was distributing water and food. Then he brought the rest to Trinity, where we unloaded 800 buckets and 200 health kits with the help of church members and community volunteers," said Carlton, who added that the truck driver was the "nicest guy you would ever want to meet."
Seeing the UMCOR truck driving into the church parking lot was an emotional moment for Carlton. "It was like being in a crisis, and having your family show up. All of a sudden, you know that things are going to be alright. That's powerful for folks down here, who are often stuck without supplies for extended periods after a storm."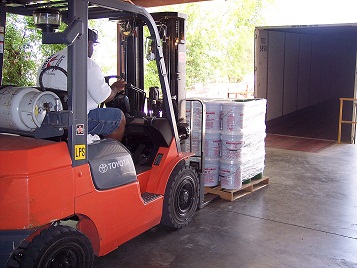 Freddy Cooks, UMCOR staff, loads cleaning buckets into trailer headed for First Street PW UMC in New Orleans.
One particularly storm weary man stood in line for supplies. "He was covered with dirt. You could tell he had been working on all kinds of things after the storm. When we handed him a health kit, he said that he hadn't had a bath in a week. The guy was so excited about the kit. You know, there's just something about a good bath that helps you feel 'normal' again," said Carlton, who added that the cars lined up to receive the kits and buckets stretched one half mile down the road.
To date, more than 18,500 health kits and 6,000 cleaning buckets have been distributed in storm affected areas of Louisiana.
"Early Response Teams have done an amazing job with debris removal, tarping and some gutting. What we badly need now is volunteer disaster response teams to help us with the recovery effort. We will be receiving teams starting Oct. 1," said the Rev. Don Cottrill, provost and director of connectional ministries for the Louisiana Conference.
According to official reports, an estimated 178,000 homes suffered some degree of damage from Isaac's winds, rain and flood waters.
In addition to home damage, 15 churches in the Louisiana conference are dealing with damages ranging from several feet of flood water and destroyed roofs to blown out windows in sanctuaries and parsonages.
The conference disaster response ministry will begin its work in the LaPlace and Maurepas areas, located in hard hit St. John the Baptist and Livingston parishes, respectively. "We are hiring and training case managers and a site manager right now. Our disaster response efforts will begin with 125 of the cases presenting the greatest need. It is our hope that with additional donations and more volunteer teams, we will be able to tackle a larger number of cases," said the Rev. Darryl Tate, director for the conference disaster ministry.
specifying Hurricanes 2012.
God has used The United Methodist Church and its people to bless South Louisiana for many years, said Cottrill. Devastating storms like Hurricanes Katrina and Rita, and disasters like the oil spill have created opportunities for the faithful to share gifts of money and time to help restore the lives of others.
"For response team members, the personal contact with survivors who have lost homes, jobs and loved ones provides us with the opportunity to share God's love in tangible ways," he added.
CONNECT WITH US
SUBSCRIBE TO OUR EMAILS
The latest news and information