CONNECT WITH US
SUBSCRIBE TO OUR EMAILS
The latest news and information
Isaac assessment team visits New Orleans District
September 06, 2012
Give to the Louisiana Conference Bishop's Appeal!
Register for Disaster Response team here!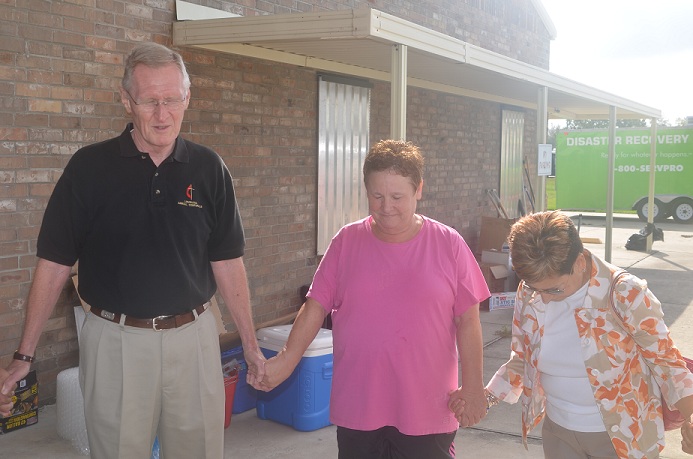 Rev. Don Cottrill and Bishop Cynthia Fierro Harvey pray with Rev. Regina Hickman in front of First UMC in LaPlace. The church sustained a foot of standing floodwater during Hurricane Isaac.
Rev. Regina Hickman, pastor of LaPlace United Methodist Church, shared with members of a conference storm assessment team that she was prepared for the emotions associated with her church's flood damage received during Hurricane Isaac.
"In 2005, I pastored United Methodist churches in Grand Isle and Golden Meadow. Hurricane Katrina severely impacted the parsonage at Grand Isle and Hurricane Rita damaged the sanctuary in Golden Meadow," said the pastor, who is now dealing with the cleanup from damages caused by one foot of standing flood water in the LaPlace sanctuary.
Rev. Hickman shared with Bishop Cynthia Fierro Harvey, Louisiana's Episcopal leader, that the storm-weary congregation held worship in the church parking lot Sunday morning using a single guitar to provide music. Members of a nearby Lutheran church joined the group.
"We didn't have power and it was hot outside, but we came together to worship God," said Rev. Hickman. "I needed to see the faces of my congregation. I needed to know they were OK."
LaPlace, La. was hit hard by flood waters from the storm, which left standing water in much of the city and knocked out power in most of its homes. Close to 3,500 people were evacuated from the area.
"Several of my church members were rescued from their homes by boat," said Rev. Hickman, who added that most of those families have returned home. "Unfortunately, about one quarter of those people are still without power. Of course, schools are not in session."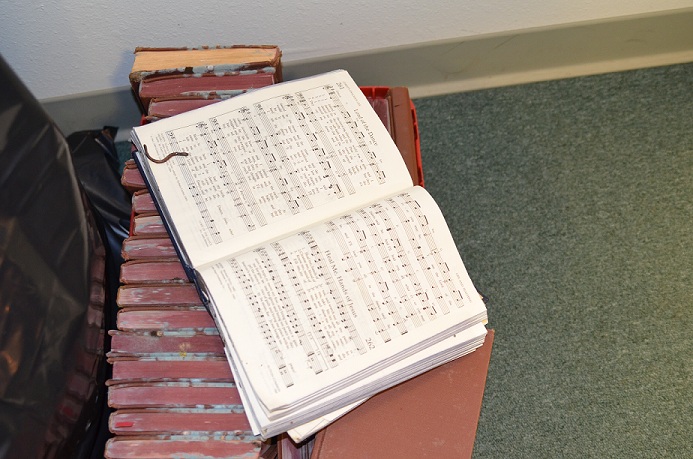 A friendly little worm made his way onto a hymnal in the flooded sanctuary of First UMC in LaPlace. A number of his friends were found throughout the building.
A group of United Methodist volunteers were found in the church sorting through wet hymnals and sheet music. "At first, I tried to help look through the music, but every time I picked something up, it broke my heart. I really do appreciate their help," said Rev. Hickman, who is working side-by-side with a professional company on cleanup and repairs to the flooded building.
Despite its own hardships, the church will be serving as a distribution site for much-needed cleaning buckets, bleach, tarps and health kits provided through the UMCOR Sager-Brown Depot in Baldwin, La. Volunteers from the Wesley Foundation at Tulane University plan to assist with the distribution.
Rev. Hickman has been touched by the outpouring of offers for help from others. "One of our older members, Mr. Leo, came by yesterday and handed me a check. 'I forgot to give you my offering on Sunday,' he said. I was really moved because his house had three feet of water in it."
The conference assessment team, led by Bishop Cynthia Fierro Harvey, traveled further into the hard hit New Orleans District of the Louisiana Annual Conference. A visit to First UMC in Kenner found Rev. Beth Tu'uta dealing with damage caused by a leaking roof and water that came under church doors during Hurricane Isaac.
"Most of my congregation and the surrounding community has been impacted, especially due to a lack of electrical power," said Rev. Tu'uta, who admitted that the city of Kenner is "still coming back" from the effects of Hurricane Katrina which hit the city in 2005.
Although the church is damaged, the pastor is reaching out to the community by providing internet access to those who need it "We have internet, but no phone," she added. "People need to get online to find out about community services and to contact family members who left the city."
Members of First UMC in Kenner have already begun assisting with gutting houses in Slidell, La. The church is also hoping to serve as a housing station for disaster response teams, much as it did in the aftermath of Hurricane Katrina.
Rev. Tu'uta is anxious to get the church's facilities back in order so that First UMC can proceed with several programs focusing on community outreach. The church offers GED and English as a Second Language classes while providing childcare to those with small children. "We intend to add citizenship classes, also. With the use of 15 computers, we will be starting a center that will assist folks with finding services and with filling out job applications," she said.
Also planned for the fall, the church hopes to start a community garden on a patch of land behind the church building. "We have several chefs and a nutritionist in our congregation. We hope to teach folks how to grow and share their own food, to cook it and to provide nutritionally sound meals to their families," said Rev. Tu'uta.
In the city of New Orleans, First Street PW UMC is serving as a distribution point for cleaning buckets and health kits supplied through UMCOR. The 179-year-old church, which received minor storm damage, serves as an ideal spot for supply pickups due to its central location within the city.
"On Sunday morning, we had 'work'-ship instead of worship," said Rev. Martha Orphe, pastor. "We had members of all ages assisting with distributing hundreds of cleaning buckets and thousands of medical kits to people in surrounding neighborhoods."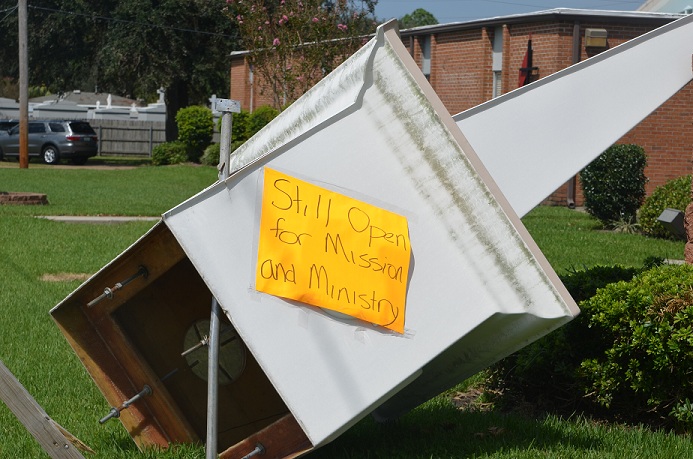 Gretna UMC sends a message of hope on the side of the church steeple which was knocked down during Hurricane Isaac.
First Street PW UMC will be housing Americorps volunteers and plans to continue serving as a distribution center for supplies.
Bishop Harvey also led the assessment team to Gretna UMC which lost its steeple to Isaac's gusting winds. "Unfortunately, water let in from the steeple opening and other leaks in the roof caused us to have about an inch of water throughout the entire sanctuary and other areas of the church building," said Rev. Tim Smith, pastor.
He is concerned that the large sanctuary may need a new roof and estimates that damages could exceed $300,000.
Rev. Becky Conner, pastor of Belle Chasse UMC in Plaquemines Parish, is relieved that damages to the church facility were minor. "Generally, Belle Chasse fared better than other parts of the parish. Power is still out for lots of folks, and a number of families are not back yet. We've delayed our mother's day out program for at least a week," she said.
Rev. Conner spoke with the conference assessment team about parking an UMCOR truck in the church parking lot to serve as a point of distribution for cleaning buckets, medical kits,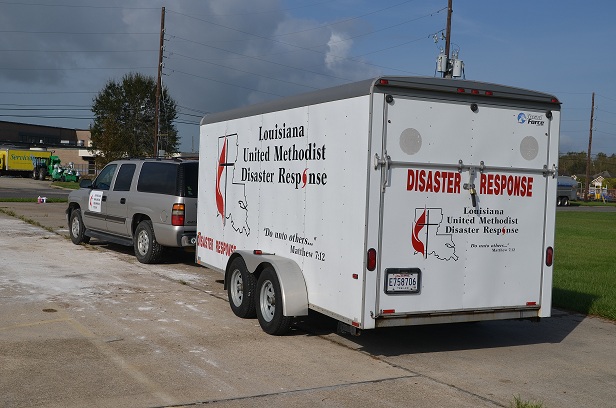 Louisiana United Methodist Disaster Response trailer is parked outside First UMC in LaPlace.
water and tarps. "People from hard hit Buras come into Belle Chasse for their regular supplies. We can serve a great need here."
Rev. Tim Neustifter, pastor of St. Paul's UMC in Monroe, was visiting Belle Chasse UMC when the conference assessment team arrived. A lieutenant colonel and chaplain in the Louisiana Air National Guard, he is temporarily stationed at the Belle Chasse Air Force Base assisting with disaster relief efforts.
He and others from his unit participated in the evacuation of nearly 30 people from Braithwaite, a small community located across the Mississippi River from Belle Chasse. "We used flat bottom boats to reach the houses, which were flooded up the roofs. When we got to a house, we would beat on the roof to see is someone was there. Then we had to break into the top of the homes to pull people out," he explained.
As a chaplain, Rev. Neustifter is "inspired" by the young people in their 20's and 30's he works with in the military. "I am assured that our country is in good hands when I get to know these wonderful young people."
CONNECT WITH US
SUBSCRIBE TO OUR EMAILS
The latest news and information