CONNECT WITH US
SUBSCRIBE TO OUR EMAILS
The latest news and information
Conference assessment team visits areas affected by Isaac
September 04, 2012
Give to the Louisiana Conference Bishop's Appeal!
Register for Disaster Response team here!
Visit the facebook coverage here!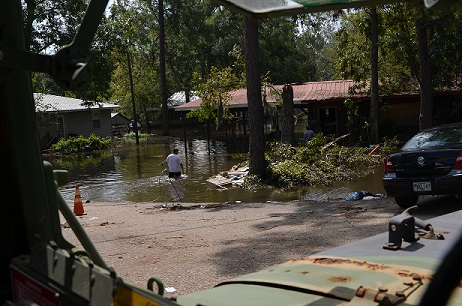 Homes in the Maurepas, Whitehall and Killian areas are hit by severe flooding.
Troy Guitreau, member of the Maurepas Volunteer Fire Department, affirmed that "a lot of people in Louisiana are suffering" from the effects of flooding caused by Hurricane Isaac.
The category one storm caused crushing water damage and loss of power in Maurepas and in neighboring towns like Whitehall and Head of Island, said Guitreau, who is a member of the board of trustees for Huff Chapel United Methodist Church in nearby Killian, La.
Rev. Milton Bourque, pastor of Huff Chapel UMC, guided a damage assessment team from the Louisiana Annual Conference on Labor Day through some of the hardest hit areas in South Livingston Parish. Bishop Cynthia Fierro Harvey led the group which was joined by Rev. Tom Hazelwood, assistant general secretary for disaster response in the United States for United Methodist Committee on Relief.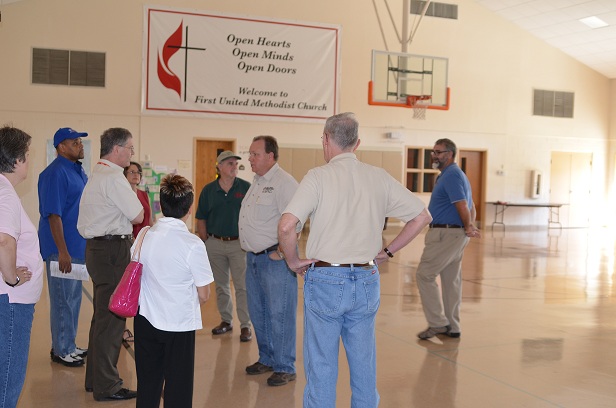 Assessment group visits First UMC, Slidell's family life center which will be outfitted with bunks to house disaster response volunteers.
The team rode through affected areas in a 2.5 ton army transport vehicle driven by Guitreau. The massive truck belongs to the volunteer fire department.
"I've probably gotten only 20 hours of sleep since the storm began," said Guitreau. "The fire department helped most of Thursday and Friday in rescuing around 50 people who were trapped in their houses."
Standing flood waters have cut off area residents from access to food supplies, water and ice. "Since there is no electricity available, people have lost their water. Most folks have their own pump-driven water wells that need electricity to work. Basically, they are out of everything," Guitreau added.
The day the team arrived, the fire department was distributing ice, water and sand for sandbags.
In nearby Ponchatoula, First United Methodist Church has been distributing cleaning buckets provided by UMCOR through the Sager Brown Depot in Baldwin, La. More buckets are being delivered to First UMC and to the fire station for immediate distribution.
According to Rev. Darryl Tate, director for the Conference disaster relief ministry, more than 1,500 cleaning buckets and 8,000 health kits from the depot are in the process of being distributed in affected areas. Eighteen palettes of water, 16 palettes of bleach and tarps are also being distributed. Requests for more cleaning buckets have already been made.
Although the Ponchatoula church parsonage suffered damage due to a fallen tree, the church building escaped harm. The congregation is actively involved in disaster relief efforts, including providing meals to Red Cross volunteers, said Rev. Mike McLaurin, pastor.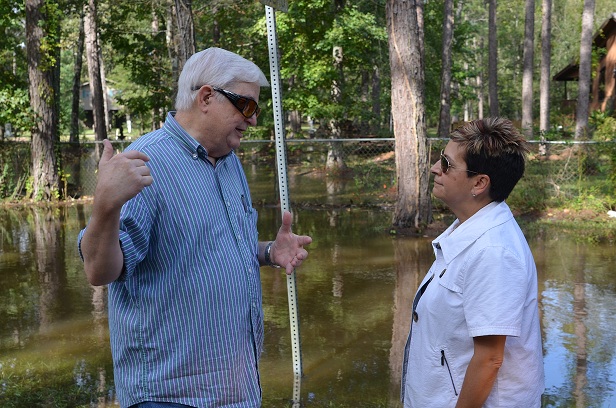 Lee's Landing UMC flooded by storm's waters
After leaving Ponchatoula, the conference assessment team traveled to nearby Lee's Landing UMC. Greeted by Rev. Spiller Milton, pastor, the group was not able to reach the flooded church due to high waters that covered the road leading to the church.
While Bishop Harvey visited with Rev. Milton, a local resident named Gene Coumes drove by and joined in the conversation. Coumes explained that he and others used a truck with oversized tires to help rescue several people that were trapped in areas nearby Lee's Landing UMC. "My mom lives there, and I own a camp in the area," said Coumes.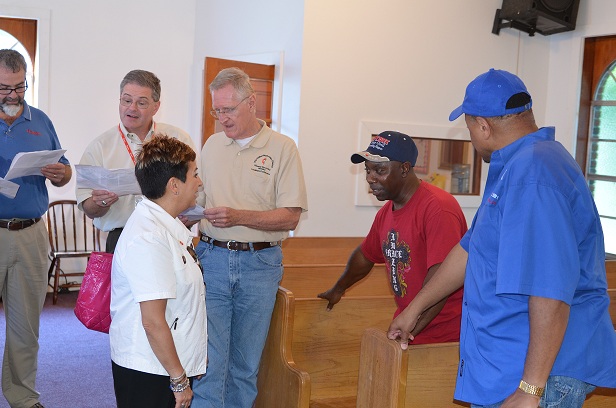 Bishop Harvey discusses Newell's damages with Rev. Nolan Robinson, pastor.
A stop in Mandeville, La. brought the group to Newell UMC, located blocks away from Lake Ponchartrain. The self-reliant congregation has already ripped up soggy carpet and is attempting to salvage it. Unfortunately, Newell sustained some roof damage and the sanctuary's flooring foundation is likely damaged.
Rev. Nolan Robinson, pastor, is anxious to get the church back on its feet. "We had worship on Sunday, but we only had half our usual number. I think a number of people couldn't get in because of flooding," said Rev. Robinson.
Later in the day, the assessment team visited First UMC in Slidell to discuss the church's plans to house disaster response volunteers. Although a number of area homes were damaged by Isaac's winds and rain, the church escaped with minor injuries.
First UMC was not so fortunate during Hurricane Katrina in 2005. The sanctuary was inundated with four feet of water during the devastating storm. Bishop Harvey viewed a commemorative plaque in the church's sanctuary that marks the water line left by the Katrina flood.
Escorted by Rev. Wybra Price, pastor, the team visited the church's Family Life Center. The building will be filled with bunk beds to house disaster response teams as they arrive to gut and rebuild homes impacted by Hurricane Isaac.
"Church volunteers have already gutted two homes in the area. We are blessed to reach out to our community and to serve as a staging area for the recovery," said Rev. Price.
The team's final stop in Slidell led them to the Epworth Project, a disaster recovery ministry housed on the campus of Aldersgate United Methodist Church.
Epworth Project, an outgrowth of conference disaster response efforts from Hurricanes Katrina, now operates in collaboration with local agencies to finish construction projects still lingering from the storm and to assist the underserved in the community with other construction needs not related to the storm.
"Teams are ramping up to come to Louisiana to help us in our recovery from Hurricane Isaac. We are able to house the teams, train them and deploy them to meet the needs of the community. We have one team that traveled down 73 times after Katrina. They still want to keep coming," said Dale Kimball, executive director of Epworth Project.
CONNECT WITH US
SUBSCRIBE TO OUR EMAILS
The latest news and information