CONNECT WITH US
SUBSCRIBE TO OUR EMAILS
The latest news and information
Louisiana Conference welcomes Bishop Cynthia Fierro Harvey
September 01, 2012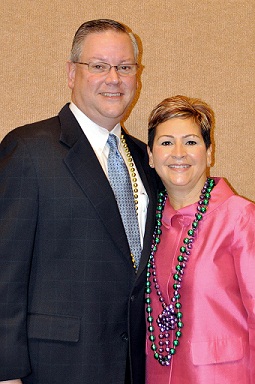 Dean Harvey and Bishop Cynthia Fierro Harvey
Bishop Cynthia Fierro Harvey begins her tenure as the Episcopal leader of the Louisiana Conference of The United Methodist Church September 1, 2012. Bishop Harvey was elected as a bishop in The United Methodist Church at the South Central Jurisdiction meeting this past July in Oklahoma City, Oklahoma. She was elected from the Texas Conference and appointed to the Louisiana area following her election. Her appointment just prior to her election was as the Deputy General Secretary of the United Methodist Committee on Relief (UMCOR), the disaster response component of the General Board of Global Ministries.
Bishop Harvey, her husband Dean and their daughter Elizabeth moved from their home in Houston, Texas to reside in Baton Rouge, Louisiana, the official headquarters of the Louisiana Conference.
The Louisiana Conference's 500 congregations and 120,000 members welcome Bishop Harvey, Dean and Elizabeth Harvey. We look forward to many years of ministry in the Name of Christ through our Louisiana connection with Bishop Harvey as our Conference leader.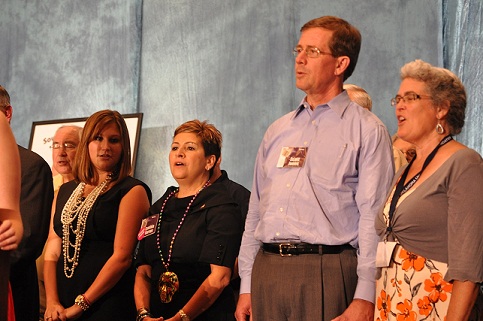 Elizabeth Harvey and Bishop Harvey with Bishop and Mrs. Scott Jones
An installation service for Bishop Harvey will be held Saturday, October 20, 2012 at First United Methodist Church, 930 North Blvd., Baton Rouge. The service will begin at 11 a.m. A reception honoring the Harveys will be held immediately following the service at the church. All are invited to attend.
CONNECT WITH US
SUBSCRIBE TO OUR EMAILS
The latest news and information