CONNECT WITH US
SUBSCRIBE TO OUR EMAILS
The latest news and information
Louisiana Conference asseses storm damage, responds to needs
August 31, 2012
Register for Disaster Response team here!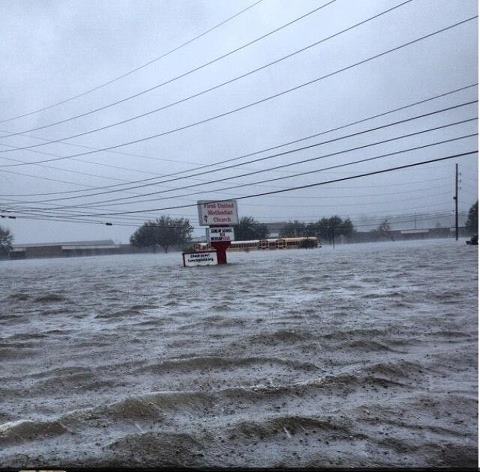 Sign for First UMC in LaPlace, LA is engulfed by flood waters from Hurricane Isaac

Louisiana Annual Conference leaders are in contact with churches in storm affected areas and are still assessing damages from Hurricane Isaac. Some of the most serious flooding from heavy rains occurred in the city of LaPlace,
located in St. John the Baptist Parish approximately 30 miles northwest of New Orleans. More than 3,500 residents were evacuated from the parish, many of whom were sent to shelters in Baton Rouge and Alexandria, La.
First United Methodist Church in LaPlace took on close to three feet of flood water, according to Rev. Regina Hickman, pastor. "I have had to go on local news reports for that information because I have not been able to access the church, myself. The roadways around the church are still flooded," she explained. As sad as Rev. Hickman is about the condition of the church, her biggest concern is for approximately half of the members of her congregation who took water in their homes. Many have been evacuated. "Some actually had to be rescued. Many of them are in Alexandria, but we are scattered all over (the state)," said Rev. Hickman, who is trying to contact each of her members through cell phones and social media.
Another major concern for the state is the possibility of flooding from a compromised dam at Lake Tangipahoa in southern Mississippi. Officials in Louisiana and Mississippi are watching and waiting after a "controlled release" to relieve pressure on the dam. If suddenly breached, rushing waters from the dam have the potential to affect upwards of 60,000 people living along the Tangipahoa River which runs south through Louisiana.

A massive evacuation effort has been executed to remove potential flooding victims from harm's way.
Reports of further damage included the steeple of Gretna United Methodist church, which was toppled by winds that gusted in excess of 85 miles per hour as Hurricane Isaac hit the New Orleans area. Rain waters entering the sanctuary left two to three inches of water causing flood damage, according to Rev. Tim Smith, pastor.

Rev. Smith and a seven–member volunteer team visiting storm-impacted Haiti were able to leave the island and to fly into Miami on Aug. 27. The team drove to Pensacola but waited to drive back to Gretna until Thursday because of Hurricane Isaac's arrival in Louisiana.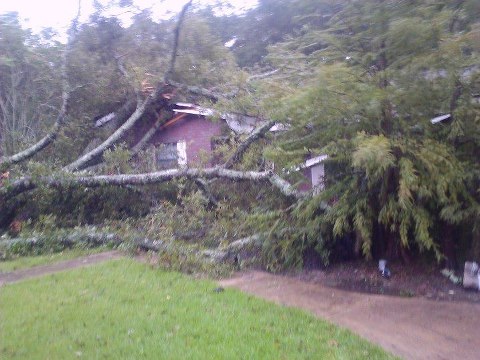 Parsonage for First UMC, Ponchatoula damaged by fallen tree
Rev. Mike McLaurin, pastor of First UMC in Ponchatoula, reported that a tree slammed through the church parsonage, damaging several bedrooms. The Ponchatoula church- as well as several other United Methodist churches in cities located along the Tangipahoa River- are at risk from possible flood waters.
First UMC in Slidell escaped flooding, but experienced high water that came within inches of entering church facilities. Slidell, located on the northeast shore of Lake Ponchatrain, was greatly impacted by Hurricane Katrina just seven years ago.

Newly elected Bishop Cynthia Fierro Harvey is in the process of moving to the Louisiana Episcopal residence located in Baton Rouge. She will travel next week with conference leaders and disaster response personnel to personally assess damages in hard hit New Orleans, Grand Isle and cities in Plaquemines Parish.

Conference Emergency Response teams are ramping up and will be dispatched to affected areas once assessments are made.
Local churches are already responding to assist those impacted by Hurricane Isaac.

First United Methodist Church in Pineville, through its congregational care ministry, made contact with homebound members to assess any needs after the storm. "We used our social media networking and neighborhood networks to assess any church member needs," said Rev. Ricky Willis, pastor.

The church also worked with local agencies and area churches to assess community needs and to reach out to more than 2,000 evacuees brought to the Alexandria area from flooded areas in the southern part of the state.

"We responded by delivering five large boxes and five large duffel bags full of shoes that were greatly needed. The church is also collecting funds and children's toys and clothes. Like so many other churches in the Louisiana Conference, we are reaching out to help those who have been so deeply affected," said Rev. Willis.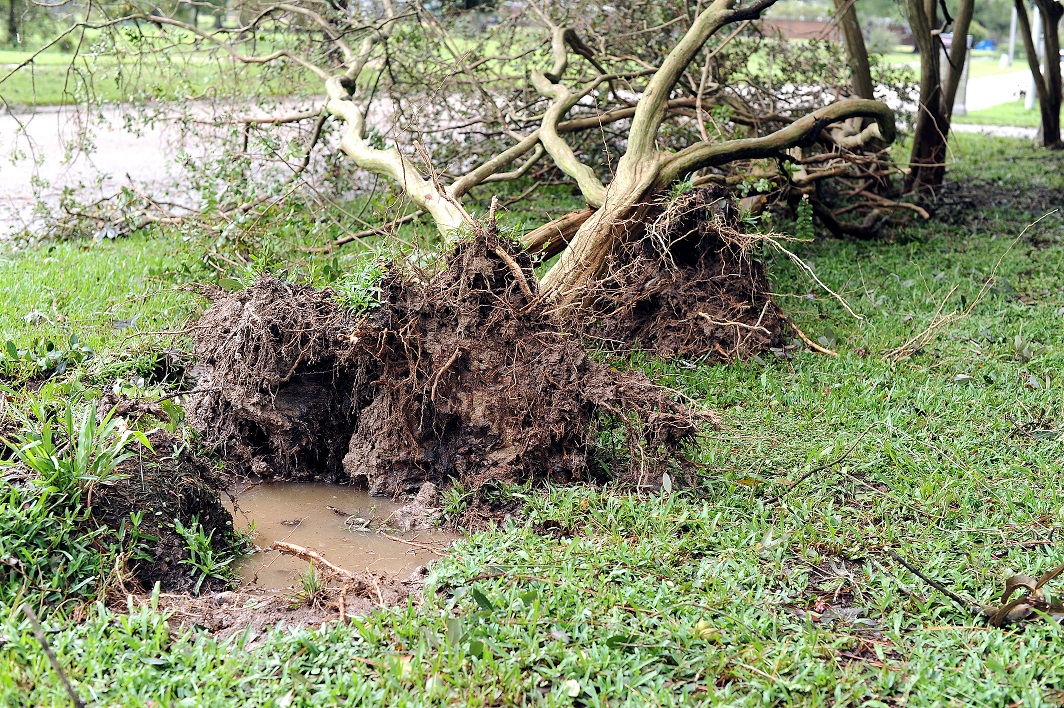 Trees downed by tropical storm force winds in Baton Rouge.
United Methodist Wesley Foundation students in Baton Rouge, La. helped make sandbags prior to the storm and assisted with debris removal on LSU's campus. Members of the group volunteered Friday morning at Hope Ministries – a United Methodist agency – distributing food and water to Baton Rouge residents affected by the storm.
CONNECT WITH US
SUBSCRIBE TO OUR EMAILS
The latest news and information