CONNECT WITH US
SUBSCRIBE TO OUR EMAILS
The latest news and information
Youth ministry empowers teens
August 16, 2012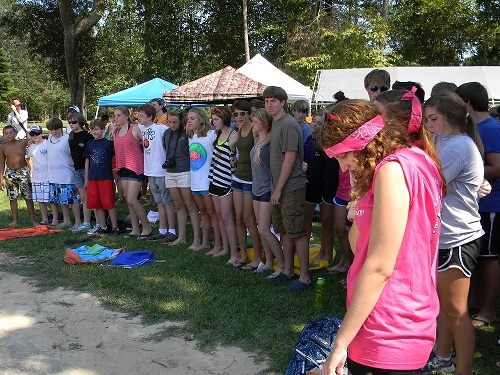 Youth ministry must be top priority for every United Methodist church
According to Rev. Ed Fashbaugh, author of Creating an Authentic Youth Ministry, "teen empowerment" is more than just putting young people on the church council. Empowerment is guiding teens in their own faith formation and allowing them to awaken to God's presence and call in their lives.
Rev. Fashbaugh also advocates the idea that healthy youth ministry understands the difference between youth activity and youth ministry. Just keeping kids "busy" is simply not enough.
Jodie Harper, Louisiana Conference director of Youth Ministry, concurs with Fashbaugh's philosophy. "Helping our youth grow in their faith and assisting them on their spiritual journey . . . this is the most important job of the church today."
It may sound trite to some, but youth literally are the future of the church. Local church youth groups, district-wide ministries and conference sponsored events and retreats are the main vehicles through which teens access opportunities for spiritual growth so that they can become the church leaders of tomorrow.
Having a healthy youth ministry in any local church requires high involvement from committed and growing adults. "People often shy away from volunteering for their local church, district or conference youth ministries because they don't feel qualified or able to work with teens. Honestly, there is a task for every person and every personality," said Harper. "Parents can serve as counselors in their local church. They can be chaperones or drivers for local, district or conference events. They can serve as district youth coordinators or associate coordinators. Volunteers are needed to offer secretarial assistance by making copies and nametags or by preparing packets for district or conference events. There is a job for every caring adult that believes in providing strong, meaningful youth ministry."
Folks hoping to volunteer as district level coordinators or associate coordinators should contact their district superintendent, according to Harper. Those interested in helping with secretarial jobs should also contact their district. Or, if wishing to help with conference events, contact Harper at (225) 346-1646 or jodieharper@la-umc.org
District and conference event coordinators are also looking for local church praise bands or Wesley Foundation bands to provide music, and are also looking for engaged speakers.
"Every church in the Louisiana Annual Conference should have two youth and one adult attending District Council on Youth Ministry (DCYM) meetings. Unfortunately, most churches are not doing this. To engage your church in DCYM meetings, contact your district youth coordinator through your district office," said Harper. Each DCYM is responsible for planning district youth events.
From the DCYM, the Conference Council on Youth Ministry (CCYM) representatives are elected. The CCYM plans and facilitates conference events. Members of the CCYM receive leadership training and training on leading small groups. They focus on spiritual formation. They are the core group responsible for making decisions regarding conference youth ministry. CCYM members decide which applicants to award grant money from the Youth Service Fund. "Serving on CCYM is an amazing opportunity for personal and spiritual growth with a heavy dose of leadership development," said Harper. Louisiana's youth do an outstanding job of developing, planning and leading conference youth ministry, according to Harper. But it takes adults working behind the scenes to support them in their efforts! "More and more of the work of the CCYM is going to be placed in the hands of the districts and local churches. So we need everyone's help," said Harper.
She added that adults working with youth should possess the following characteristics: patience, flexibility, a sense of humor, and a loving manner. "As adults working with youth, we empower the teens to make decisions in planning and implementing every conference event. Adults do not lead. They are there to help by answering questions, assisting with evaluation, and to help if there is an emergency. Workers with youth must always remember-- This is not children's ministry. We are leading our youth toward self-reliance," said Harper.
Rev. Tom Dolph, Harper's predecessor in the Youth Ministry position, gave her this advice: "Don't forget to sit back, enjoy and watch for God." "If I've done my job correctly and trained the youth properly, then they will know what to do," said Harper.. Through healthy youth ministry, participants receive the extra bonus of a bolstered self-esteem. "The kids have such a sense of accomplishment. They can say, 'Look what I did with and for God. I've seen introverted kids literally blossom," said Harper.
District-wide and conference-wide youth events provide an opportunity for "connectionalism" within and among our conference churches, she added. "The kids who have been active in conference ministries or CCYM always say that they constantly run into friends they have made when they travel to other churches, or when they ultimately go to college. They stay connected through social media."
In addition to expanded friendships, conference and district youth events provide churches with ready-made opportunities for local church youth programs. "Churches don't have to go to the expense of creating events. All of the leading and teaching is done. Parents and counselors just need to provide transportation and chaperones," said Harper.
The Louisiana Conference CCYM has recognized that event prices need to be kept affordable and more opportunities need to be presented to decrease the travel time for some local churches. Youth ministers, counselors and parents are encouraged to include planned conference events in their local church activities calendar. This year's theme is Faithbook using Luke 10:27 as the scripture--focusing on learning how to love God with all our hearts, souls, minds and strength. Listed below are the events that are available for any youth in our conference throughout the coming year.
*Youth Ignite! (will take place in three locations)
Northern Kingdom @ Splash Kingdom in Shreveport, Aug. 18 from 11a.m.-7 p.m.; Southern Kingdom @ Camp Istrouma, Aug. 24 from 10 a.m.-4 p.m.; Western Kingdom @ Camp Uskichitto, Aug. 25 from 10 a.m.-4 p.m.
There will be worship, water activities, lunch, t-shirt and more. . .all for $25 and one canned good for the Food Bank.
*Junior High Retreats
The Wesley Center, Woodworth, La.
October 26-28 and November 9-11
This event will look very different this year! This year's emphasis will be on mission and we will be participating in actual mission projects. Small groups will be assigned a country, there will be passports, worship, great food, games – including 9- Square, fellowship, a nighttime trip to the cross and much more.
*Senior High Retreats
Location TBA
Scheduled for February 15-17 and March 1-3, but if held in two locations, will only be one weekend.
This event will focus on leadership and what God's word says about being leaders, wherever we may be. It will help participants mature in their Christian faith and learn how to be leaders at school, at home and in future workplaces. The retreats feature small groups, worship, games, great food, fellowship – all this and much more!
*Confirmation Day with the Bishop
The Wesley Center, Woodworth, La.
Confirmation classes from all over the state come for this one-day event which includes worship and workshops about "Who We Be in the UMC." Cost is $25, which includes a t-shirt, lunch and activities.
*Awakening Retreat
The Wesley Center, Woodworth, La.
Jan. 4-6, 2013
Awakening is a process of identifying and walking with young people as they search and discover their calling in life. We believe something good happens to us when we explore, listen, share and serve. Cost is around $40.
*Happening Retreat
The Wesley Center, Woodworth, La.
January 18-20 and July 12-14, 2013
The Happening Experience is a powerful instrument of renewal in the Church. The weekend theme is developed through a series of talks which compare the changing nature of material and social reality as compared to the permanent nature of spiritual reality, a firm foundation on which teens can build a secure foundation on life. The Happening staff is made up of teenagers 10-12th grades. Adults are present to support the weekend, including Spiritual Directors. Happening provides a method through which one's spirituality may be developed, lived and shared.
CONNECT WITH US
SUBSCRIBE TO OUR EMAILS
The latest news and information