CONNECT WITH US
SUBSCRIBE TO OUR EMAILS
The latest news and information
Faith Crossing and Friendship UMCs merge
August 16, 2012
Faith Crossing UMC in Denham Springs has met for the last three years in a 4,000 square ft. warehouse off of Rushing Road. The lease for the warehouse was expiring in the summer of 2012, and the church was having difficulty finding more permanent facilities or land for Faith Crossing.
"There was nowhere for us to go. We had put out several offers, but nothing materialized," said Rev. Leslie Stephens, pastor.
At the same time, Rev. Lewis Morris, pastor of Friendship UMC in Walker, was having important conversations with his congregation. Attendance had dwindled to about 15-20 people and finances were a major concern.
Both churches needed solutions to their problems.
This past spring, the two pastors met with conference leaders to discuss the possibility of a merger between the congregations. Faith Crossing, currently in central Denham Springs, and Friendship, located in north Walker, are only a 20-minute car drive apart.
On July 1, members of Friendship UMC worshipped for the first time at Faith Crossing's campus. "The church was packed tight. Children were running everywhere. Friendship and Faith Crossing members, alike, knew this was God's answer to our collective prayers," said Rev. Stephens.
Friendship UMC's campus has been closed for the summer for renovations that include gutting and refinishing the Fellowship Hall, adding parking spaces, building a new playground, replacing carpets in the sanctuary, and adding tv screens in the sanctuary for use in worship. The renovations were made possible through the use of 1000 Club funding and monies provided through the conference Church Extension ministry.
On Aug. 26, what is now known as Faith Crossing UMC at the Friendship Campus will have it's first worship service at the remodeled facility in Walker. "This is a merger. Both congregations are coming together. All of these folks are part of Faith Crossing UMC at the Friendship campus," said Rev. Stephens.
The congregations of the two churches are melding together well, according to Rev. Stephens. "At Faith Crossing, the majority of our members were already very involved because as a new church, we needed everyone's participation. Anonymity is not an option!," she said with a laugh.
Because the church is only several years old, there is no "long standing history" to get in the way of ministry, added Rev. Stephens. "There are no well-established routines or cliques. Everyone at Faith Crossing can add their voice. Everyone belongs."
Appropriate to this non-traditional church's approach, Faith Crossing actually got its start through a softball team in the community league. "Several members of the softball team joined the planting team when we got off the ground years ago. We still have our softball team, and it continues to serve as a great entry point to the church," said Rev. Stephens.
Faith Crossing UMC was chartered on May 15, 2012 with 150 professing members. Community outreach is very important to the mission of the church. Faith Crossing assists the Greater Baton Rouge Food Bank by hosting food giveaways from the church parking lot. "The food provided to us were items that they were going to throw away. One of our church members who works for the food bank, found out about the extra items and made arrangements to set up the giveaways from our parking lot," said Rev. Stephens.
Faith Crossing's community visibility is also assisted by members joining in Habitat work days, participating in events like the Louisiana Skeeter Run, hosting play dates in the park, Vacation Bible School and soccer teams. And of course, a softball team!
Although the merging congregation will begin its new life in Walker this August, the church will continue to look for property in south Denham Springs. "It was always our plan to add a United Methodist presence to this part of the city. If we can find the right home, that campus could possibly be known as Faith Crossing UMC in Denham Springs. We may actually wind up with a multi-campus approach," said Rev. Stephens.
Ironically, Faith Crossing's church parsonage has always been located right across the street from Friendship UMC's campus. "Some have teased me about that coincidence. And no, I didn't plan it this way," she laughed. "Every step of the way, we have been awed by God's leading in bringing our congregations to this point."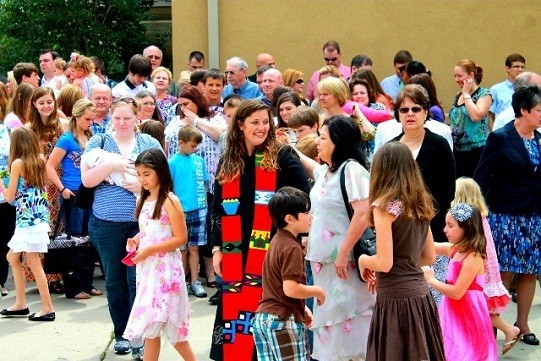 Rev. Leslie Stephens, pastor of Faith Crossing UMC in Denham Springs, is surrounded
by members of her congregation during the church's May 15 chartering service. The
new start church is in the midst of a merger with nearby Friendship UMC, which will be
the physical home for the new church to be known as Faith Crossing UMC at the
Friendship campus.
CONNECT WITH US
SUBSCRIBE TO OUR EMAILS
The latest news and information