CONNECT WITH US
SUBSCRIBE TO OUR EMAILS
The latest news and information
Adam Hamilton's teachings on Church Leadership
June 04, 2012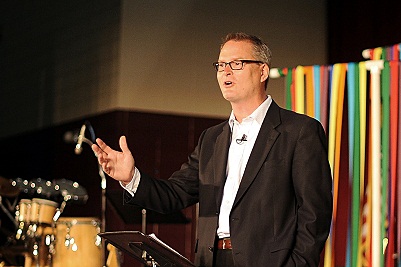 Rev. Adam Hamilton
Rev. Adam Hamilton advised Louisiana's United Methodists to "never give up" in their mission to make disciples for Jesus Christ.
Hamilton served as guest teacher during the 2012 Louisiana Annual Conference, being held June 3-6 at Centenary College in Shreveport. He presented Sunday evening and Monday morning.
"A successful pastor, or layperson, is willing to do the things unsuccessful pastors and laypersons are unwilling to do," he emphasized.
Hamilton, who pastors the 12,000 member Church of the Resurrection in the Kansas City area, shared a story about "never giving up" with the more than 1,000 clergy and lay delegates present at the conference. The event happened when his fledging church had only 150 members.
"I was bringing a mug to a woman who had visited our church on Sunday. It was snowing. When I got to her door, she was surprised to see that I had gotten out in the weather," said Hamilton.
She apologized to him, saying that she would not be joining the church. Anita had a child with special needs, and was compelled to align with a larger church to be sure they could build a ministry that served his needs.
Hamilton returned to his congregation and asked for eight volunteers that would commit to helping craft that ministry for her son. Today, the Church of the Resurrection has 150 persons being served by their special needs program.
The church was willing to do what others were unwilling to do.
Rev. Hamilton offered a list of qualities possessed by good leaders. Effective leaders should be truly dedicated to Christ; courageous; radiate "possibility"; NOT take themselves too seriously; be authentic; be passionate; TRULY care; know more about their subject matter than the people they are teaching; use good manners; walk humbly; and (he said wryly), wear clothes that appropriate to the community and use good grooming.
"Don't forget to brush your teeth!," he said, getting a laugh from the audience.
Research has shown that "highly vital" churches possess strong lay and clergy leadership; effective preaching and worship; and active mission outreach. Healthy organizations, according to Hamilton, have a mission, a vision and a plan.
Two key actions for church leadership involve self evaluation and leadership training (in teams!)
Effective leaders should set the tone of the organization/church; clarify and champion the mission and vision; hold the organization accountable to accomplish the mission; evaluate, celebrate victories, and honestly address shortcomings (survey your congregation); and be responsible for preparing the organization for the future by leading change.
They also align people and resources to accomplish their vision; they motivate and inspire; and produce change.
"You know, we don't like change in the church," said Hamilton, drawing laughter and sounds of agreement from the group.
The most important thing that church leaders should never forget: "It's all about people."
"Leaders can have weaker administration skills, but having good people skills can make up for everything else," said Hamilton.
The key to caring about people is to look for the good in others, he emphasized.
Exhibiting solid principles of leadership can be challenging--and even uncomfortable at times, said Hamilton. When making difficult decisions, he likes to follow "discernment by nausea," he said.
"When we come to a fork in the road, we almost always take the easier path. The other choice makes me sick to my stomach," said Hamilton. But, he added, the more difficult choice is almost always God's will.
CONNECT WITH US
SUBSCRIBE TO OUR EMAILS
The latest news and information