CONNECT WITH US
SUBSCRIBE TO OUR EMAILS
The latest news and information
Operation Happy New Year
January 26, 2012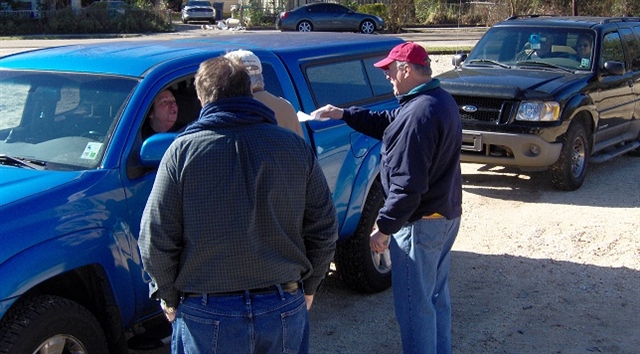 Operation Happy New Year meal distribution
Five years ago, the members of First United Methodist Church in Covington began to take a closer look at how their church was engaged with its surrounding community.
"We realized that we had 'disconnected' from the community in which we live. Although our church was functioning, we seemed to be engaged only with ourselves," said Ronnie Berg, a member of First UMC.
The church began to look for ways to serve the community, and the members also tried to identify its strengths. "The scripture in Matthew 25:35 seemed to be our starting point. Feeding the hungry and the needy in our community was certainly the goal of most churches in Covington. Thanksgiving dinners were prepared and Christmas Day meals were delivered by the thousands," said Berg.
But when it came to New Year's Day, it seemed that very little was being done for the hungry and the needy of the community. "We saw this as our opportunity, so we contacted the Food Bank and started to plan," he added.
As a result, Operation Happy New Year was "born."

Every year, church members and community volunteers prepare traditional New Year's dinners and deliver them to the Food Bank of Covington. Those who have preregistered pick up their meals from the Food Bank on New Year's Day.
"Last year, with the economy as it is, we prepared over 500 meals," said Berg, coordinator of Operation Happy New Year. "This year, the event took place on Monday, Jan. 2, and not on Jan.1, which was a Sunday. Since our facility and volunteers were dedicated to Sunday School and worship services, we began meal preparation on Sunday evening and delivered meals the next day."
Those meals were delivered through the Covington Food Bank to Newell United Methodist Church in Mandeville and to three area Baptist churches, all located in disadvantaged areas on the Northshore.
A total of 60 meals were delivered to Fairhaven, a children's shelter in the Folsom area.
Back at First UMC, church members also fed the children and supervisors of the United Methodist Children's Home of Greater New Orleans, with the kids enjoying a theater-style luncheon while viewing a movie. "Each youth received a gift certificate donated by a national drugstore chain," said Berg.
The Covington Police Department has served as a valuable partner since the inception of Operation Happy New Year. Interim Police Chief Captain Jack West, interim police chief, delivered 30 meals to needy persons in high-crime areas. "They welcomed him with open arms. And the chief said it gave him a rare opportunity to speak with residents, face to face, in a non-threatening setting," said Berg.
Project organizers believe that the meal is an effective way to interact with the neediest people in the Covington area. "The purpose of Operation Happy New Year is to respond to Matthew 25:36, to identify the least of these in our community. Over the last five years, we have developed a successful formula," said Berg
.
This year, 45 of the prepared meals were never picked up. During meal distribution, a funeral was being held at Newell UMC. All that the family had to serve after the service was peanut butter sandwiches. "So we blessed them with the 45 beautiful meals and God opened another door for service to His people that morning," said Berg.
"Operation Happy New Year has helped our church identify more mission fields than we could have ever imagined. Working in these mission fields has energized our entire congregation," he added.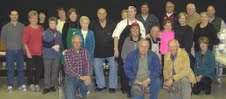 Volunteers gather during Operation Happy New Year
CONNECT WITH US
SUBSCRIBE TO OUR EMAILS
The latest news and information