CONNECT WITH US
SUBSCRIBE TO OUR EMAILS
The latest news and information
Call to Ministry
January 26, 2012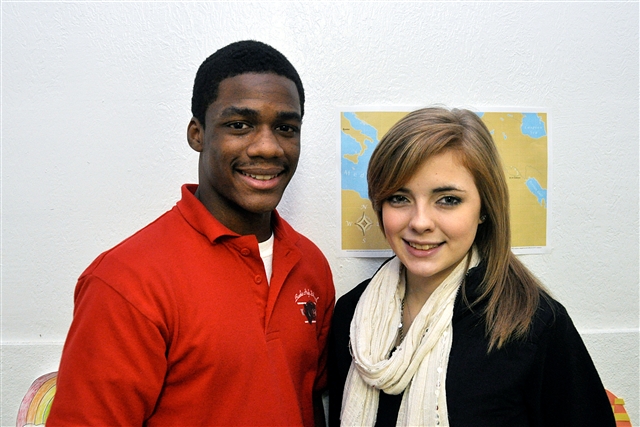 Chris Follins and Katy Delia
For six of the 20 youth delegates to the 2011 Louisiana United Methodist Annual Conference held in Shreveport, the highlight of the event was sensing a call to ministry.
"It was something I never anticipated," said Jodie Harper, conference director of Youth Ministries, who served as adult leader of the youth delegation during the June conference.
The "electric" moment happened during Bishop William W. Hutchinson's sermon delivered during the June 6 Ordination Service held at First United Methodist Church in Shreveport.
"It was an extremely powerful sermon," said Harper. "After the service, the youth delegates gathered together in the church sanctuary. One of the boys, Travis Burch, had tears in his eyes."
Travis shared with Harper and the group that "something had happened" to him during the service.
While talking, some of the other delegates started crying. One of them was Katy
Delia.
"Before coming to annual conference, I already felt the call to ministry. But Bishop Hutchinson's sermon helped affirm my decision to pursue that path in my life," said Delia, a junior in high school from Lake Charles, La.
The idea of becoming an ordained elder never seemed possible for Katy, who as a young child, was raised in the Baptist and Assembly of God traditions. "I thought, 'I can't be a pastor.' Being a woman in the pulpit was not modeled for me" she said.
But Rev. Karl Klaus, Katy's pastor at St. Luke Simpson UMC in Lake Charles, saw something special about this poised and deeply spiritual young woman. "He encouraged me toward this decision. I've been speaking to my pastors about declaring candidacy since I was 14 years old."
Katy and the other five youth delegates who felt the call after Bishop Hutchinson's sermon were invited to share conversation and pizza with the Bishop during lunch on the last day of the 2011 annual conference.
"It was heartwarming to see how meaningful it was for the kids. They were so touched Bishop Hutchinson would take time out of his busy schedule to meet with them, answer questions, and encourage them. The youth knew it was special," said Harper.
Christopher Follins, a junior from Bunkie High School, said, "When the Bishop gave his sermon, and starting talking about how people Tweet today to share a message, it hit me, God gave me a voice, and He wants me to use it through ordained ministry."
Follins, an outgoing and high-energy teen, believes he can "connect with anybody." "I love to be around people. I don't care who you are . . . I don't judge others," he added.
Chris admits that he first thought that his love of leadership and people might be leading him to a career in politics or law. "But I had just participated in a district-wide youth ministry training right before annual conference. We filled out ministry surveys, and they told me that I should lean toward being a minister. After listening to the Bishop, I was certain," said Follins, who also credits his late mother for steering him toward his present path.
"Every issue my mom and I discussed was centered on a Bible scenario. She encouraged me to read a Bible story every day, and we would analyze the story every night," Chris recalled with a smile.
Follins plans to enroll in Centenary College after high school graduation, while Delia will stay in Lake Charles to attend McNeese College.
A third student, Travis Burch, has been accepted to Oklahoma University. "Travis hopes to major in theatre and the arts, but follow his college career by entering seminary," said Harper, who observed that the Alexandria youth can "lead small groups like no one I've ever seen."
Logan Settoon from Sulphur, Joey Gardunio from West Monroe and Andrew Hane from Baton Rouge are the remaining three youth that felt the call to ministry on that summer evening in Shreveport.
Katy Delia expressed a deep appreciation to Bishop Hutchinson for his inspiring words and his inclusive attitude. "When we had lunch during annual conference, I was the only girl in the room. He treated me with the same interest and respect as the others. The Bishop was the first male, other than my pastor, who has been so open my choice."
Chris Follins added, "I'm so blessed to have had the best mom and the best Bishop to help point me in this direction."
Delia added, "I'm passionate about people and overwhelmed with how lucky I am. For the rest of my life, I'll be doing something I truly love to do."
Conference Committee on Youth Ministry planning meeting
CONNECT WITH US
SUBSCRIBE TO OUR EMAILS
The latest news and information