Mission u (School of Missions)
Louisiana Conference UMW hosts 2014 Mission u
View pictures of this event here.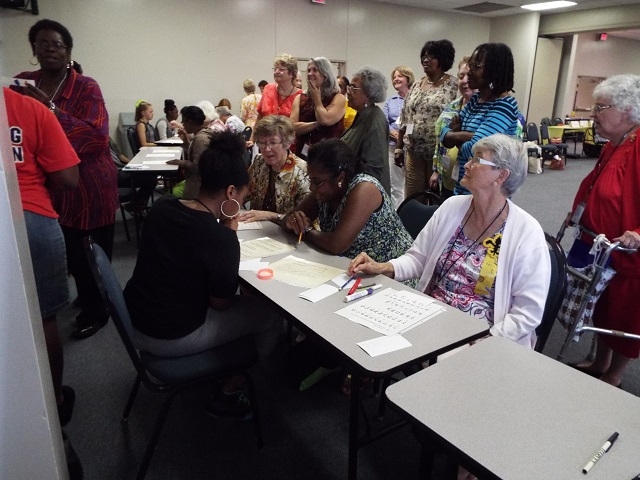 The 2014 Mission u: Learning Together for the Transformation of the World, held this past July at the Wesley Center in Woodworth, was a successful event for the Louisiana Conference United Methodist Women. One hundred five persons from across the conference registered for the event; but due to unforeseen circumstances, the actual attendance was 99. This number included 8 study leaders, 15 First Timers and 10 youth.
Of the current six districts (Acadiana, Baton Rouge, Lake Charles, Monroe, New Orleans and Shreveport), there was a tie for the district with the most participants in attendance; thus Acadiana and Baton Rouge both received certificates.
The Wesley Center had a constant buzz of activities July 23-26 starting with Early Morning Praise; singing; the studies ("How is it with Your Soul", "The Church and People with Disabilities" and "The Roma of Europe"); networking with the National Mission Institution representatives; browsing in the bookstore and displays provided by the Baton Rouge, Lake Charles and Monroe related to the studies; Disability Awareness and Open Mike Night and Ice Cream Social; Closing Worship and Holy Communion. Highlights from this year centered around the Mission Study on Disabilities: the Awareness and our Response. On Thursday evening, Malinda Graham, Merceda Burns and Marilyn Turnley shared their personal experiences/ challenges with having a disability or "different ability". On Friday night, our youth provided the participants with an evening of disability challenges using the different senses. This turned out to be an evening of fun and learning for both the youth and adult participants. Another highlight related to Disabilities: the Awareness and our Response, was the follow-up action in which a Love Offering in the amount of $1082.20 was presented to the Wesley Center to be earmarked for Handicap Accessibility improvements. As usual, Mission u participants were very mission oriented. During Plenary 2, there was the National Louisiana Mission Emphasis and offering. In addition to the offering that was collected (approximately $1400.00 that was divided among the four NMI~ Dulac, North Rampart, MacDonnell and UMCOR) Dulac Community Center, North Rampart Community Center and MacDonnell Children's Services each received specific checks from the various districts that increased the funds donated to them. The conference UMW team along with the participants were blessed by this year's Mission u and eagerly looks forward to Mission u 2015 as we continue to "MAKE IT HAPPEN".