CONNECT WITH US
SUBSCRIBE TO OUR EMAILS
The latest news and information
Laity Address by Dr. Sarah S. Kreutziger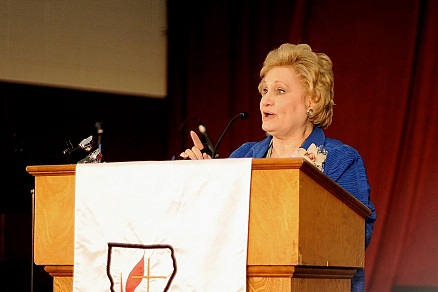 Principled Leaders as Leaders
Dr. Sarah Kreutziger, Conference Lay Leader
Good Morning. Bishop Hutchinson, Dr. Cottrill, Rev. Miller, and other sisters and brothers in Christ, the report of the Conference Board of Laity begins on page 90 and ends on page 98 in the Pre-Conference Report. Before I begin my address, may I say what a great honor it has been to serve with all of you and a wonderful privilege to be allowed to be the Conference Lay Leader. I have been blessed beyond measure during these past four years and am forever grateful for your kindness and support. Thank you.
Only the most dedicated of Civil War buffs know that the last shot of the War Between the States was fired in Haywood County, North Carolina, on May 9th, 1865, fully one month after Confederate General Robert E. Lee surrendered to Union General Ulysses S. Grant at Appomattox Courthouse in Virginia, on April 9th.
The War was prolonged by Confederate Cherokees under the command of their white chief, Colonel William Holland Thomas. Thomas refused to concede defeat even as the Union forces encircled the county seat, Waynesville, demanding that the Rebel Chief surrender. Rather than suffer their only loss in a War where the Cherokees had primarily served as scouts-- Colonel Thomas, dressed in full-feathered Native American regalia as befitting his position, surrounded the Union camp. In Joshua-like fashion, Thomas and 300 of his followers lit hundreds of campfires in full view of the Northern soldiers. Then they whooped and chanted their fierce war cries throughout the following days and nights uncharacteristically threatening to scalp the invaders unless THEY surrendered. When the three Union generals finally convinced Colonel Thomas that he was fighting for a Confederacy that no longer existed, Colonel Thomas and his brother in law, Colonel James R. Love, reluctantly relented and negotiated a truce that allowed the Legion of Cherokee and Highlander fighters to keep their weaponry—the only Confederate troops allowed to do so – and exacted a promise that the Union forces would leave Haywood County immediately and never return. Afterwards, Colonel Thomas disbanded his men and went home to continue a successful career as a self-taught lawyer and businessman, ex-state legislator, and fierce advocate for the rights of the Eastern Band of Cherokees. He died penniless at the age of 88 in 1893, after spending his considerable fortune successfully securing the rights of the Eastern Band of Cherokees to remain in their Western North Carolina home (Thomsen, P. A., 2004, Rebel Chief).
"Little Will," as he was called by the Cherokees, was passionate in purpose, an untiring worker, persistent to a fault, unrelenting in battle, courageous in response to call, and the embodiment of the unified vision of the people he served. He was also impulsive, made serious mistakes, and was not averse to expressing strong opinions. In personality, he was very much like the apostle Peter in temperament and character. Like Peter, he was a leader for his time; a man who inspired such loyalty that a $5000 bounty placed on his head had no takers. Like Peter the mantle of leadership fell easily upon his shoulders in any endeavor he undertook.
Some might suggest that the Colonel's 19th Century style of leadership, like Peter's in the first century--strong, sacrificial, rebellious, and undaunted--is a good model today for the many challenges that we face in our beloved and tarnished connectional system. Indeed another "Will," Bishop Will Willimon of the North Alabama Conference, argues just that in his newest book, Bishop: The Art of Questioning Authority by an Authority in Question (2012). One of my favorites quotes from the book recounts a discussion Bishop Willimon had with a seminarian:
      "Bishop," she asked, "If I come to your conference, can I be sure that you will back me up if I have conflict with the laity?" "Summoning more candor than usual, [he] replied, 'I promise never to allow anything worse to happen to you than happened to our Lord. I'm just a bishop, after all. I'm impotent to protect you from the perils of work with Jesus'" (p. 68).
But, as I pondered the kind of women and men we need to fulfill our mission to Make Disciples of Jesus Christ for the Transformation of the World with our current challenges, a contrasting image of leadership emerged. What if we made the word, "leader," a verb instead of a noun? In other words, instead of defining leaders as people who distinguish themselves from the crowd by certain characteristics, elected position, and/or heroic actions; what if lead-ers were just that—individuals who bridge pathways between Christ and the world by leading one to the other? What if Christian leadership means not so much standing above the crowd as standing within it?
In this context, it is not the apostle Peter then who is the primary model for Christian Leadership, it is his brother Andrew. Andrew, who is consistently identified in Scripture as the brother of Peter—not the other way around; Andrew, who is never in the spotlight as Peter is; Andrew, who is mentioned last in lists of disciples even as Peter is identified first.
Yet, it is Andrew (John 1: 40-42) who first met Jesus and took Peter to him; Andrew, who finds and leads the boy with the loaves and fishes to Jesus (John 6: 8) for the feeding of the 5000; Andrew who is the escort for Phillip and the Greeks to hear Jesus' final public discourse before his betrayal (John 12: 20-23); and Andrew who continued to exhort others to follow Christ even as he was dying on a cross in Patros, Greece in 69 A.D. (www.biblepath.com.landrew.html).
Andrews are the lead-ers who tell others about a living Christ who renews and transforms. Andrews connect others to the Savior with their voices, their actions, and with their witnesses. They are the builders of the Kingdom contact-by-contact, relationship by relationship. They are the unsung linkages of greatness and the mortar of the Connection. They are the evangelists of our day.
Lucy Foote was an Andrew. She saw potential in her unpolished but eager student, Anna Howard Shaw, and set her on the spiritual pathway that led to Anna's ordination in 1880 as a pioneer woman pastor. Another female Andrew gave the young seminarian her widow's mite of $5 in gratitude for introducing her son to Christ just as Anna dejectedly learned that the $50 promised for the revival she preached was not to be given. The $5 allowed Anna to eat for the first time in three days and to buy a badly needed pair of shoes, but more importantly it gave her the assurance that God would provide for her needs in her darkest days. Later, an anonymous Andrew in the Women's Foreign Missionary Society donated the $3.50 weekly that allowed Dr. Shaw to finish her education (Shaw, A.H. Story of a Pioneer, 1915. Pp. 85- 89).  
Anna Howard Shaw's experience is legion. Each narrative that celebrates the Peters in our church is replete with the Andrews who paved their paths. Did you ever wonder, for example, who were the Moravian laymen (or possibly laywomen) who invited John Wesley to that outdoor meeting at Aldersgate? Or who was the Andrew who was reading Luther's "Preface to Romans," when Wesley had the heartwarming assurance that he could trust God? These individuals must have been very compelling because John Wesley writes that he "went unwillingly" to the meeting that changed his life.
Did any of these Andrews, I wonder, even have a glimpse of the effects of their generous and steadfast faithfulness? Probably not.
                Isn't it strange how princes and kings,
                And clowns that caper in sawdust rings,
                And common people, like you and me,
                Are builders of eternity?
                Each is given a list of rules;
                A shapeless mass; a bag of tools.
                And each must fashion, ere life has flown
                A stumbling block or stepping-stone. (" A Bag of Tools." R. L. Sharpe)
In countless ways Andrews are at work, mostly unheralded and unknown, building the stepping-stones for eternity by telling others the Good News. They are the torchbearers for new generations of Christians, the quiet relentless movers of the Kingdom. I submit to you that these are the real principled LEADers in the church. And if our church is to survive, it will be because each of us claims our call as Andrews—or as Peters—and persistently and un-embarrassingly link others to Christ by our words and our love in action. No more excuses, no more procrastinating, no more waiting for others to take up the cross. Each one seeking one, each one reaching one, each one teaching one…again and again and again until we have finished the race and accepted the victor's crown.  
Your Conference Board of Laity has accepted the Andrew leadership challenge and worked these past four years as the Conference lay-representational connector between the general church and the local churches. Our purpose is to raise up and develop stronger Christians, laity and clergy together, for the sake of making a difference in our communities in the name of Christ.
In order to accomplish these goals, our primary tasks during this past quadrennium were to (1) strengthen our structure for greater clarity of mission, (2) build strong communication networks to facilitate increased involvement in the work of the church, (3) remove barriers to full inclusion from underrepresented individuals such as our young people and ethnic members, (4) encourage passionate leadership (noun and verb), (5) develop new ways of doing ministry, (6) train, train, train, and educate, educate, educate, and (7) keep our focus on the Main Thing so that whatever we do enhances our mission to Make Disciples of Jesus Christ for the Transformation of the World. Our team made great progress in each of these objectives in the following ways.   
In opening opportunities for young people, nearly 100, $1500 scholarships, 24 this past year alone, were given to Daughenbaugh-Matheny recipients under the able direction of Mrs. Carolyn Dove. Carolyn also increased the endowment and produced a DVD showing the impact of these scholarships in the lives of the students who are making a difference in our denomination.
In new ministry, we added six Certified Lay Ministers, with one to be commissioned this Annual Conference. These uniquely-trained laity serve as musicians, church coaches, supply pastors, district lay leaders, and evangelists. Two of those in the pipeline are interested in starting storefront churches in their Hispanic community. Our prayer is that the 1000 Club shepherded by Mr. Walter Weiss will be beside them raising the thousands of dollars needed for new church starts just as they have been for the three calls this past quadrennium.
One of our Certified Lay Ministers, Mr. Al Franks, represented the Board in the Certified Lay Ministry program as well as Lay Speaking Ministries on short notice. Mr. Tim Hebert, the previous director, unexpectedly died this past February after great success in coordinating training for hundreds of individuals in each district. Before Tim's death, Lay Speaking Ministries training modules were added in Spanish and Korean. Tim's passing leaves a huge hole in our hearts. Likewise, we grieve the loss of previous CBOL members, Dr. Nancy Carruth and Mrs. Joanne White.
Our United Methodist Women, under new president Dr. Barbara Ferguson's watch, and our United Methodist Men under the care of Mr. Gard Wayt, have become training grounds for South Central Jurisdiction and General Church leaders because of their exceptional mission work and other activities too numerous to mention here. Likewise, our youth, inspired by leader Ms. Madeline Blackwood, have increased attendance significantly at major youth events like, "Ignite," as they call our young people into ministry and Christian commitment. One young lady, Ms. Ashley Esterly, is the well-deserved recipient of the Harry Denman Award for Evangelism this year.
Our District Lay Leaders, Mr. Ron Sarver, Mrs. Eloise Cox, Dr. Ethel Haughton, Mrs. Lueburda Myers, Dr. Keith Kreutziger, Mr. Grant Schroeck, Mr. Gary Green, and Mr. Rickey Watson, have worked with their District Superintendents and Administrative Assistants to create clearer communication channels through technology, to raise funds for the programs mentioned above, and most of all to sponsor educational events that call others to action on behalf of our mission. At least 500 hundred individuals were trained in church and community mission each year at these events.
Our Board officers Mrs. Joyce Robinson, Associate Conference Lay Leader and new recipient of the Harry Denman Award; Secretary Ms. Marverne Terrell; Treasurer Mrs. Glennell Cottrill; and Members at Large Mr. Pete Aguila, Mrs. Betty Blackman, and Mr. John Evans worked diligently to keep the Board functioning just as former Conference Lay Leaders Dr. Anita Crump and Mr. Buzzy Anding did the same for me. Ms. Rhonda Whitley also kept us sane.
We can't close out this quadrennial report without thanking God for Bishop William W. Hutchinson who clones himself to be at the clergy and laity sessions simultaneously. Bishop Hutchinson never failed to respond to any request made on half of the CBOL and was our speaker at the Laity Breakfast this morning. Mrs. Kay Hutchinson also opened one of our laity sessions and was always on call. Dr. Don Cottrill, another spiritual advisor, rarely missed our meetings and kept us connected to conference activities. He and Dr. Donald Avery (and Rev. Roger Lathan before) ably represented the Cabinet.
These are the extraordinary individuals who symbolized the hard work of the laity these past four years; planned and gathered others for the very successful Bishop's Laity Retreat with Bishop Hutchinson and Dr. Gil Rendle this past March; served on the Louisiana delegation to General and Jurisdictional Conferences; attended numerous events, changed bylaws and created job descriptions; and answered the call for duty no matter the hardships, illnesses, and losses in their personal lives. It has been an honor and privilege to serve on their team. PLEASE STAND.
I would also like for the new CBOL members, elected yesterday afternoon, to stand and be recognized. The incoming board is a very diverse group, composed primarily of new members who were chosen through a discernment process for their passionate commitment to Christ. They will carry on the legacy of our board as they represent other laity who serve so faithfully. PLEASE STAND.
I began this presentation with the story of my great, great, great uncle William Holland Thomas who embodied many of the disparate personality characteristics of the apostle Peter upon whose leadership our church was built. Yet, I contend that Peter's brother Andrew is an excellent model for what the church primarily requires today because it was Andrew who introduced others to Christ one by one, day by day. The Peters in our congregations are important for courageously inspiring great transformative changes that are part of vital congregations, but it is the Andrews whose witness in voice and actions grease and glues these changes together. As I close this address, I ask you all to give silent thanks for the Andrews who brought you to this point in your lives and ask God to give you more opportunities to become Andrews for others.
                Isn't it strange how princes and kings,
                And clowns that caper in sawdust rings,
                And common people, like you and me,
                Are builders of eternity?
                Each is given a list of rules;
                A shapeless mass, a bag of tools.    
                And each must fashion, ere life has flown    
                A stumbling block or stepping-stone. (R. L. Sharp)
God bless you.
CONNECT WITH US
SUBSCRIBE TO OUR EMAILS
The latest news and information