Episcopal Address by Bishop William W. Hutchinson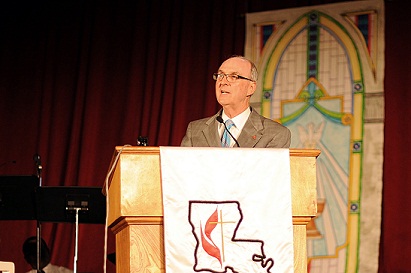 For the Twelfth Time
Bishop William W. Hutchinson
Hymn - "Blessed Assurance" , No. 369 UMH
I have two major news programs I like to hear or watch. One is the news on National Public Radio that usually comes on the hour and on the half-hour. The other is my favorite television news program, "Sunday Morning" with Charles Osgood. I must be quick to say that I miss "Sunday Morning" fairly often because it comes on at 8:00 AM and that's usually when I'm leaving the house for a church service. But, when I can, I watch it.
Both of these communication media have "feature presentations" that consume most of the time, but they each begin with a bit of the current news before the feature. I like that.
I'm like the young woman on television who pushes a chair onto the screen and flops down in it and says to the young man sitting across from her something like, "This is my chair. I designed it myself, using my brain. It matches me. Do you get it?" He responds by looking both ways and then opens his old dilapidated looking sport coat, revealing that it is lined in the exact same garish plaid as the shirt he is wearing and he says something like, "I totally understand." She looks taken aback and says "Wow! I like that! I like it a lot!"
I like these news formats a lot! So today I have three feature stories for you. The first "Feature" is "General Conference and Our Response." Second feature is the "Strategic Vitality Task Force/CF&A" report and proposal. And the third "Feature" is "A Final Word from the Bishop to the Church in Louisiana." But first, the News!
I.

                   
It's been another wonderful year in the Louisiana Annual Conference. Here are some statistics of which you should be very proud:
1.

      
Average Worship Attendance (one of the key metrics by which to assess the vitality of the church) was UP in 2011 over 2010.
2.

      
The number of persons being baptized increased in 2011 over 2010.
3.

      
The number of persons reported to be in Mission was some 9,390, an increase of 814 over the previous year!
Here are a couple of statistics about which there is some concern:
1.

      
The total number of Professing Members declined a little. From 120,882 in 2010 to 119,933 in 2011. A loss of 949. But here's one thing to consider. There were 1,503 persons removed by Charge Conference action alone! Without the necessary cleaning of our rolls, we would have shown a growth in membership!
2.

      
The number of persons received on Profession of Faith declined by 84.
3.

      
The number of those enrolled in a Confirmation Class was down by 109.
4.

      
 And when it came to expenditures, the Grand Total paid out in 2011 was "$115,539,119, which is great, but it was $4,529,067
less
than in 2010.
II.

                 
When I spoke to you last year, one of the leading issues regarding the work of the churches throughout the Conference was the self-identification of churches as to whether they saw themselves as 1.) On the Move, 2.)Faithful and Strong, 3.) Rekindling the Vision, or 4.) Passing the Mantle. You will recall that I announced that we had some 105 churches that had not done this requested work and you audibly gasped! I also said we would not be spending time, effort, or resources on these, but that our energy as Bishop and Cabinet would be with those who wanted to become part of the "Community of the Willing." 
Most of those 105 churches had located their District Superintendent before the Conference was over and had made plans to get their hats in the ring of the "Community of the Willing! Praise God for that keen awareness!
We've had some very moving, helpful and encouraging gatherings of these Affinity Groups over this past year. We have one more seminar to go which will happen in the fall of 2012, and that will be for small to mid-size churches who identified themselves as "On the Move".
Additional language you will begin to hear around our church types and what it means to be a vital congregation will be "Intimacy with Christ," or similar language that will help move us into a deeper question of how we relate to Jesus, what place Jesus has in our personal lives and in our collective life as the Church!
III.

               
In March of 2012 we had one of the most successful Laity Retreats we have had since I became Bishop. Dr. Gil Rendle came and led this two day retreat with some 200 lay leaders who had the joy of hearing Dr. Rendle talk about what it means to be on a wilderness journey in the church today and what we must begin to do to make sense of where we are and how do we move forward. This will help immensely in helping us be better informed about the direction of this Annual Conference and why we are doing what we are doing in order to increase the number of vital congregations.
IV.

               
Speaking of Dr. Rendle, I want to thank the United Methodist Foundation of Louisiana for both sponsoring the Laity Retreat and their continued generous support of the conversations between the Extended Cabinet and Dr. Rendle. This has allowed us to go deeper into the wilderness journey conversations that will, prayerfully, lead us to be a more vital and effective Church for the 21
st
century. I'll say more about the importance of this when we come to the "Feature" story on General Conference."
V.

                 
This was a year for Boundaries Training for clergy and lay members of church staffs from every United Methodist Church in our Conference. The intent of this training is to help us prevent some of the unfortunate and heart-breaking transgressions of boundaries that lead to great hurt, disappointment, and disillusionment in the Church of Jesus Christ. Every clergy person will be required  to participate in this training at least once a quadrennium for the duration of their active ministry.
VI.

               
This has been a year in which many clergy and lay leaders have died. We will memorialize the clergy and their spouses tonight. I want to mention four leading laity who distinguished themselves among us as exceptional leaders and who have gone on to Glory.
 Mrs.Nancy Carruth
-
   Ms. Higher Education, Ms. Africa University, Ms. Centenary College and many other leadership roles;  Mr. Tim Hebert - our former Conference webmaster and Historian and who was to be a Jurisdictional Conference delegate this year; Mr. Bill Henning – philanthropist and community leader whose commitment to the ministry of the Church led him and his sons to give the monetary gift that made possible the construction and opening of the new Methodist Children's Home of South West Louisiana in Sulphur; Mr. Ben Mount – Conference Chancellor. There are multiple others who I invite you to call their names aloud now and we will follow that with a moment of silence in their honor. 
VII.

             
We experienced another wonderful Holy Land pilgrimage for our Ordinands and for other interested pilgrims from the Annual Conference. In January some 110 of us flew to Israel and had a beautiful journey together in the places where Jesus walked, taught, lived, and gave himself for us. This is a ministry so very dear to my heart and one I pray will be continued into all the years to come as new Ordinands are brought into Full Connection with the Louisiana Annual Conference. It will provide spiritually deepened leaders for our churches as we allow God's Holy Spirit to make us a renewed movement again.
VIII.

           
This was a year in which two new leadership training opportunities were begun, again with generous support from the United Methodist Foundation of Louisiana. One program begun was L.E.A.P. – Leadership Excellence Advancement Program – for clergy who have already served 5 years as an ordained clergyperson, and who have at least 15 more years to serve. 
Four additional clergy have been participating in a similar program for persons with less ordained experience through the gracious offer of the Texas Annual Conference to bring them into their already existing program.
And in this same field of leadership development is our "Awakening" event for those 16 – 20 years of age who are exploring the possibility of ordained ministry as their life work, and the continuation of The Discerner's Academy for those 20 years of age and older who are likewise exploring ordained ministry as their life work. Not all who come to these events discern that they should go into the ordained track. Some decide they will explore the Local Pastor route; others look at the Certified Lay Minister; still others consider a Deaconess or Home Missioner; and still others determine they will pursue another vocation, but make their life commitment to be the most effective lay leader they can be.
I mention these two leadership venues, and add The Academies for Spiritual Formation to thank Dr. Carole Cotton Winn for her years of service as the Director of Spiritual Formation. We pray for her blessed rest, relaxation, and continued growth in the things of Christ in her upcoming retirement.
IX.

               
The Annual Conference voted last year to make New Church Development the number one priority of the Annual Conference. It is a dynamic priority and one that has the potential to quicken the spirit and hasten the growth of the Louisiana Annual Conference. I thank Rev. Steve Stephens for his years of service in this field. The three new churches that were started under his watch – The Well, New Song, and Faith Crossing - are now all officially chartered and are fully United Methodist Churches! He is not here to receive my thanks because he will be attending the Northwest Texas Annual Conference where he has taken an appointment in Amarillo. 
Our new Director of New Church Ministries is Dr. Rob Weber. He will be working from Shreveport for the foreseeable future, but his vision is broad and creative and he will give great leadership to the Conference.
X.

                 
The last bit of news I want to share is that in May we officially closed the Louisiana Disaster Recovery Ministry! After seven years of intense work, and 112,626 clients served, 127,970 volunteers hosted from every Conference in the United States, from every state in the United States, and from 36 other countries,  and a total value of  in-kind donation of labor performed amounting to $105,222,382, we have packed up our office and moved on! A word of appreciation and deep thanks to all who made this work possible. It literally consumed all of our attention, energy, and resources for several years. But we did it well, and you have now become the model people of resiliency from natural disaster. We owe a great word of thanks to one who literally was plucked out of the Katrina storm and put to work leading this recovery and who has led us faithfully and effectively for the past seven years, Rev. Darryl Tate! He goes now to accept a new appointment in Rayville and will remain very part time as our Director of Disaster Preparedness. Thank you Darryl and all the legions you led in this critical period of our Conference's history.
AND NOW FOR OUR FEATURE STORIES!!
General Conference and the Future
To get us in the mood for this Feature, and since we have already sung "And Are We Yet Alive", which is most appropriate to this segment, let's stand and sing together,  "Forward Through the Ages." 
What does one say about General Conference, 2012? I have been going to General Conference since 1984 and this was the strangest display of ineptness I have ever witnessed. To say the General Conference displayed symptoms of a body beginning to writhe in the throes of death may not be an overstatement. From the opening plenary to the closing bomb shell of the Judicial Council ruling that all of the work toward a new day was "unconstitutional" and "unsalvageable", there were painful displays of brokenness, paralysis, lack of spiritual discernment, and hopelessness. One clear message that was unquestionably sent was, "The General Conference as we have always known it is broken."
I assure you I am the first to admit and "get" this painful fact. The bishops of the South Central Jurisdiction "get it" as well. In our debriefing session in Houston on May 25th, that was confirmed to a person. With anger, disbelief, and frequent tears we spoke of the waste, both monetary and of people's time of this endeavor; the deep division that has been driven by personal agendas that have taken the place of the good of the whole; the loss of confidence in that which we have all held dear; and, one of the most painful, the deep hurt and broken relationships that lay shattered on the floor of the Tampa Convention Center that final night.
But, enough said of the pain-filled disappointment of General Conference 2012. The key question now is "What do we do going forward?" The answer is that we are going to face the brutal facts with hope! Because, there is great hope!
The fact that there was no restructure to the General Church that will make us more efficient, better able to respond quickly to our rapidly changing world, and reduce our costs by reducing our behemoth and  antiquated bureaucracy, makes the work we are doing in our Annual Conference and in our South Central Jurisdiction all the more important! Our focus on excellence in ministry and fruitfulness of work, accountability for who we are and what we do, and our emphasis on vital congregations that are able to step outside of themselves and reach out to and help transform a hurting and dying world, becomes all the more important.
What we began a few years back with looking to the future and establishing our four proto-type churches and beginning to probe our mission fields is crucial groundwork for us. Our next steps will be to further imbed our accountability measures, and then to move to the deeper spiritual questions around our closeness to, or intimacy with Christ. After all, everything we do is about him and him alone – or at least it should be! This Jurisdiction has become a leader in pushing the Church forward to a new day and you can expect more of that in the future. 
If I were remaining as Bishop for another quadrennium I assure you I would be keeping us focused on vital congregations. And I feel relatively assured that any new episcopal leader you receive will do the same. At least she/he will be surrounded by committed sisters and brothers in our Louisiana Cabinet and in the College of Bishops who will be leading their Conferences in that direction. In addition, you will begin to see some new Jurisdictional emphases set forth that will say, "We are committed to and focused on tomorrow and we are moving forward. We're not waiting for the rest of the Church to catch up!"
I'm more convinced now than ever before that change in the church is going to happen through Conferences like ours that will try bold new things and then share that with other Conferences as we learn from each other. Change is going to happen only as local congregations "get the picture" and join with one another through their Annual Conference ties and make things happen. We can no longer rely on the General Conference for help to get us there. If it is going to happen it will be one Conference at a time, one district at a time, one church at a time, and one soul at a time!
All of this must be directed by a genuine renewal in our hearts and lives as we become more grounded in scripture – or, let's say it! – the Bible! It will not come through some program developed by the General Church. We must deepen our faith in and personal walk with Jesus Christ and we must renew the prevalence of the teaching about and experience of the convicting and empowering work of the Holy Spirit!
We know the language don't we! Prevenient Grace, Justifying Grace, and Sanctifying Grace. Now we must live it! And we must let grace, God's grace, change us!
Oh yes, there is great hope for tomorrow. It is just refocused hope as far as our relationship to the General Conference is concerned. It's our choice, and our choice is LIFE!
THE SECOND FEATURE STORY IS:
The Strategic Vitality Task Force/CFA Report
(Here house band will play and sing "Money, Money, Money)
In my Episcopal Address at the 2011 Annual Conference I spoke to you about the crucial meeting held in Fort Worth, Texas in March of 2011 concerning the financial state of The United Methodist Church and projections for the future. You will recall that six persons selected for their financial expertise and the bishop attended this meeting. As a result of that which we learned, I came to you at the 2011 Annual Conference and announced my decision to "gather a team consisting of eleven persons plus the bishop" who would make up what has become the "Strategic Vitality Task Force." Their purpose was to "give advice to our structures as to whether the proposals in front of us are financially sustainable or not, (in other words, can our finances sustain the program and ministries we have set out for ourselves as a Conference), or are they even strategically wise from a church vitality standpoint." I was careful also to say, and I quote, that the team gathered "has no authority to make decisions." They were strictly to be an advisory team who were to "review and strategize with our structured committees as to how the ministries we have deemed important can be initiated, sustained and supported fully."
As a follow up to that statement of intent, on Wednesday afternoon, June 8, 2011 a motion was made by Dr. Ramonalynn Bethley to "allow Bishop Hutchinson to assign a new strategic vitality task force to work with CFA and report back to the Conference with definitive proposals on how to realign Conference resources to accomplish our mission." The motion passed. (Conference Journal, 41st Session of the Louisiana Annual Conference, June 5-8 2011, pp. 90-91)
That Task Force was formed, has worked tirelessly and with great focus, and in January, 2012 presented their advisory report to the Conference Council on Finance and Administration for their review and critique. After working together and reviewing all the issues, these two bodies have combined their thoughts and recommendations which has resulted in the report with "definitive proposals on how to realign Conference resources to accomplish our mission". The proposed budget that will make that possible you will find in the 2011 Pre-Conference Report on pages 28 – 45.
What you have before you in this report contains recommendations that will require some serious conversation. Many historical and "close to the heart" ministries are affected by the budget proposals. We will have time set aside in our agenda for holy conversation about all these ministries. We will need to enter the discussions prayerfully, realistically, and hopefully. What is proposed is not about elimination of any ministry, but rather is about how we can best sustain those ministries and missions that bespeak our faith and that make a difference in how we as a body of believers in Jesus Christ interface with and transform our world.
I have my personal opinions about what I believe should be done. I have expressed those freely and with all the conviction I have in the Task Force meetings. Some of my opinions and thoughts are strongly reflected in the report. Others of my opinions were finally subjected to the broader wisdom of the two groups. It is not my place to try and tell you as the Annual Conference gathered in business session what you should or should not do. It is now your time to engage the report fully. It is important to remember that much of our common life together requires compromise and even surrender of some closely held opinions for the good and advancement of the whole. Prayerfully, you will each know when that moment applies to you and your thoughts.
I fully agree with the four principles that guided the Strategic Vitality Task Force in their work and that they saw as their assigned task:
·

        
Realization of the declining membership and loss of financial support of our churches.
·

        
Study of the funding of the Annual Conference
·

        
Find alternate methods of achieving Conference goals
·

        
Reduce apportionments to the local church in order to allow more funds to be used in the congregations in the overall goal of Making Disciples for Jesus Christ.
The basic philosophy of moving the Conference Office from being a Service Provider to being a Mission Strategy Model is a good philosophy. The only way we will ever know if that model will work, or even be better than what we have and have known for many years, will be to try it. 
Our focus, and the main driver of this report, must be on developing and enabling vital congregations. Anything that will move us further along that continuum from ineffective to vital is where we need to move.
Change is both a feared and necessary aspect in the life of the Church. Today's economy, philosophy of outreach, and discernment of where our outreach is most needed and most fruitful for the up building of God's Kingdom drive us toward this change. Our General Conference was most impotent when it came to change. In fact, the fear of change led it to be totally unable to face the needs for today and caused us to leave Tampa without the needed alterations to our life together that would make us better able to be the Church for the 21st century. It is my deep prayer that you will be able as a body together here to wrestle with the need for change in the Louisiana Annual Conference and come to a mutual decision of the best way forward from here that will enable you to be a vital force for Christ far into the future.
This ecclesiastical conversation is not about winners and losers. It's not about one agenda versus another. It is about how we are going to be the Church in Louisiana and in the world and how do we best live that out. While in some cases there are personalities that are involved, you cannot let the discussion be driven by personality, either positive or negative. It must be driven by ministry. In other cases there are what I call "heart ties" to certain ministries. But you can't let yourself be governed solely by the wonderful memories and love you have for a certain institution or outreach. Instead you must make yourself ask the question "Is it time to do something different and/or differently?" And, in all cases, you must keep in the forefront of your mind the bottom line question, "Is the way we currently are doing this ministry financially sustainable into the future?"
I know you have labored hard, prayed hard, and discerned hard ever since you received this somewhat unsettling, and yet forward looking report and recommendation. I trust that those hard activities will enable you to converse with one another with passion and with compassion, with conviction and with understanding, with love and with grace. And when we have concluded our conversation and have voted the next step for the Annual Conference, I pray we can leave this session with our respect for one another intact, our commitment to our life together intact, and our love for our Church and her future intact.
Once again, change is hard. But change is one of the few constants of life and must be done. How we do that, how soon we do that, and how cooperatively and lovingly we do that is your decision to make. I look forward to helping you have this much-needed conversation and then to watching the Louisiana Annual Conference rise up to meet the future as the strong, faithful Conference you have proven yourselves to be.
That then leads me to the final Feature Story:
A Final Word to the Louisiana Annual Conference
The last twelve years have been some of the best of our lives. When Kay and I came to live among you and serve alongside you we knew we were coming for a great adventure and a great time of personal growth. It has been a blessing far beyond anything we could have imagined.
Both of us grew up in the Methodist Church. Kay in Alva, Oklahoma and I in Hobbs, New Mexico. We have our parents to thank for that. We have always loved the church. When we were dating one of my fraternity brothers said to me, "Hutch, she would be the perfect preacher's wife. Just watch her. It's like she's always at a church ice cream social." Well, he was right – she has been the perfect preacher's wife , and mother, and grandmother. She has been my strength and stay in this beautiful journey we have shared together for 48 years now.
We've had a "Cinderella" ministry. We began out of seminary by starting a New Church; then to an idyllic ranching community in far West Texas; a bustling oil field / agricultural town in south central New Mexico; a growing and thriving downtown and university church in Las Cruces, New Mexico; three years as a District Superintendent in the Odessa District, headquartered in Odessa, Texas; another city / university church in Albuquerque, New Mexico; the Director of the New Mexico Conference Methodist Foundation; and then elected to the Episcopacy and appointed here. How blessed we are.
The years in Louisiana have been both joyous and tumultuous. If it had been a time of normal "business as usual," I suppose we would have experienced with you the fairly normal expressions of growing and strengthening the church. We actually were well into that early on. The Lilly Grant that we received in 2002, coupled with a challenge grant from the United Methodist Foundation of Louisiana in 2004 for the establishing of the position of "Director of Church Extension and Transformation" enabled us to put the Conference in a positive position for expanded growth of outreach and ministry. 
We reduced our Districts from 9 to 7. We got the Conference Center (now the Wesley Center) out of financial jeopardy. We changed our Conference health insurance plan to one that was much more stable. We established the Discerner's Academy for greater leadership recruitment. And on August 27, 2005 we gathered in a Special Called Session at First United Methodist Church, Baton Rouge and voted to sell Lafon Home in New Orleans, the proceeds of which would first pay the remaining loans and debts held by the Home and any excess would become the property of the Louisiana Annual Conference and a "proposal for its use would come to the Annual Conference for approval and implementation."
We left that sunny Saturday afternoon with visions of millions dancing in our heads that would give us continued strong growth. At that same time a gigantic gray cloud was gathering on the horizon that was named Katrina. By the next day New Orleans  and all coastal areas were in mandatory evacuation, and the next day, August 29, 2005 will live forever in our minds in Louisiana as the day Katrina's force hit the coast and the city. The subsequent failures of the levees led us to a time of disbelief, distress, disorganization, and disaster. Not quite a month later another monster storm named Rita slammed into Southwest Louisiana. What we thought couldn't get worse did.
Suffice it to say our lives were and are forever changed. Our work as a Conference took a 180 degree turn and immediately assumed a whole new direction. A new reality set in and we have lived with it ever since. My memories of Louisiana will always be measured by "before Katrina/Rita and after."
Kay and I were given the joyful blessing to extend our years of service by an additional four years by action of the General Conference 2008 that changed the mandatory retirement age for clergy. After much prayer and discernment we felt God leading us to stay the additional four years, and we are so very glad we did. It not only has enabled us to help bring our Disaster Response to a formal close, but it has allowed us to see new and powerful directions for the vitality of the church moving into the future. I've already said much about that hope today and know the days ahead are filled with great potential and great promise.
It has been an honor beyond description to serve as your Bishop. Thank you for loving Kay and me and for allowing your lives to become intertwined with ours. We shall forever love you and claim you as our true brothers and sisters in Christ.
We wish and pray for you a beautiful, bright and ever better future as you welcome and love your next Bishop and spouse. Whoever that may be, they are coming to one of the greatest of the Jurisdictional Conferences in the United Methodist Church.
We'll be moving to Las Cruces, New Mexico sometime in mid-August. Our home faces the majestic and picturesque Organ Mountains and when we walk out our front door I always want to say, "I lift up my eyes unto the hills. From whence does my help come? My help comes from the Lord, who made heaven and earth. He will not let your foot be moved, he who keeps you will not slumber. Behold, he who keeps Israel will neither slumber nor sleep." (Psalm 121: 1-4)
We would love for you to come visit us there. As Tom Bodet says, "We'll leave the light on for you and the latchstring out."
Picture us sitting on our little patio, watching the sun play on the granite peaks of the Organs, and often thinking of you. And when we do, this song will be in our hearts.
"Miss the Mississippi"
"Now, to him who is able to keep you from falling and to present you without blemish before the presence of his glory with rejoicing, to the only God, our Savior through Jesus Christ our Lord, be glory, majesty, dominion and authority before all time and now and forever. Amen." (Jude 24)