July 23, 2013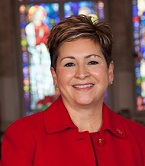 It has been a little over a month since the 43rd session of annual conference.
I was very anxious about annual conference but your hospitality provided a sense of calm at a very anxious time. You were so incredibly welcoming and embraced Dean, Elizabeth and me with the love I have grown to know is part of your DNA. The opportunity to meet with clergy, laity, extension ministers, retirees, local pastors and associate members was a gift. I was finally able to put faces and names together. And friends, I am blessed beyond measure.
After annual conference I travelled to Houston for the graduation of my best friend's daughter and spent the weekend with old friends. As much as I enjoyed being with you, it was nice to be in a place where I could just be "Cynthia," attend a graduation party and visit with my four year old friend who was just interested in sitting in my lap, reading books and playing. She does not care that I am a bishop or whether I am following parliamentary procedure. She was just interested in "being" with me and I with her.
A few days later I had the privilege of preaching the opening session of the Rio Grande Annual Conference. It was like being with family and old friends, although I knew few of them. I preached in "Spanglsih," drawing from my past and honoring the legacy of so many who have paved the way for someone like me to be able to serve as a bishop in the United Methodist Church today. They were welcoming and celebrated with me the gift of serving with you in Louisiana.
On June 17-21, we gathered in Fort Worth for a series of meetings with the College of Bishops, the Jurisdictional Committee on Episcopacy and Bishop's Week with cabinets, lay leaders and board of ministry leaders from across the jurisdiction. It was a fantastic week. We spent time exploring the culture of call and the changes we are experiencing as a denomination. We are moving from a pipeline way of calling our leaders to more of an ecosystem which is much less linear, influenced greatly by our surroundings, and requires much greater responsiveness. . .and I might add, creativity, to the way we call clergy and laity to life and work in our churches.
I had the privilege the following weekend to preach at First Grace in New Orleans. It was the BOMDDIGGITY! I felt as though God's kingdom had come on earth as in heaven.
Some people think that things slow down after annual conference but it wasn't until July 4th week that I was able to catch my breath. I had not picked up a golf club in many years but we spent three glorious days playing golf. Granted, I am not a very good golfer (it might even be a stretch to call myself a golfer) but loved spending time with Dean. We surprised ourselves! I had time to breathe in all that God had provided the weeks before. I realized that in the midst of the calendar, I had gone from one thing to another and had hardly paused long enough to take it all in. How incredibly important is this time of Sabbath when we can simply BE and take in all that God has given us to sustain us for yet the next "run" at life.
I returned energized and ready for what was before us – cabinet meeting in Lake Charles. Typically the cabinet meets in Baton Rouge or at the Wesley Center but we are trying something new. We are meeting in the districts and setting aside time one evening to meet with clergy and laity. We led with the question, "What would you have to do to live out the vision and preferred future?" We had a great conversation--learning, living and telling the gospel story. We will be coming to a district near you very soon. Our hope is to be in each of the districts prior to Annual Conference 2014. (see
http://www.la-umc.org/pages/detail/1899
)
I was reminded on the golf course last week that sometimes you cannot see where you are going. As I hit from the tee, most of the time, I could not see the pin. I had to trust the outline of the golf course on my score card and markers along the way to tell me the distance to the pin. I also learned, yet again, that not only did I have to have the right club but when I take my eye off the ball, I am likely to miss it completely and can even leave a giant divot on the course, damaging the course. I truly feel the Spirit moving among us and leading us to greater things. But we must stay focused, keep our eye on the ball, read the markers around us, choose the right club and do our best not to create too much damage along the way. It is ok to miss the ball every once in a while and make a mistake, but next time you step up to the tee, you must realign your stance.
The Bible does not talk much about golf, but it certainly does talk a lot about keeping your eye on the one who will lead you through the wilderness. I am delighted that you have embraced the Vision and Core Values (on the conference website at
http://www.la-umc.org/pages/detail/1884
), but might I remind you that even the greatest vision and core values are but a clanging symbol if we are not faithful to the deep call we each share.
Deep Call
You are the God who makes extravagant promises.
We relish your great promises
of fidelit,y
and presence,
and solidarity,
and we exude in them,
Only to find out, always too late,
that your promise always comes
in the midst of a hard, deep call to obedience.
You are the God who calls people like us, and the long list of mothers and fathers before us,
who trusted the promise enough to keep the call.
So we give you thanks that you are a calling God,
who calls always to dangerous and new places.
We pray enough of your grace and mercy among us
that we may be among those
who believe your promises enough
to respond to your call.
We pray in the one who embodied your promise and enacted your call, even Jesus. Amen.
Prayers of Walter Brueggemann
In Christ,
Cynthia Fierro Harvey