July 17, 2013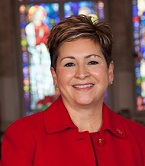 Like many, I was glued to my CNN app on my iPhone on Saturday awaiting the verdict from Sanford, Florida. Because I have been traveling in my car a great deal the last few weeks, I have been listening to the trial on CNN and have been sucked in by the media coverage surrounding this case. As soon as the alert came on my phone, I turned the television to CNN. As I heard the verdict, I am not even sure I could measure my emotions. I was stunned, afraid, dismayed and caught myself fighting back tears. Why?
Perhaps the reason for the tears might be related to having just presented our vision and core values a few days before in the Lake Charles district. They were fresh on my mind. I wondered how the verdict on Saturday night might resonate with our preferred future to lead others into an abundant life in Christ, to connect with our community, to learn, live and tell the gospel story and reach out and draw in people from all walks of life. What about our core values: integrity, accountability, an unrelenting love for all people, courage and risk, holding nothing sacred but the mission – how would they hold up were we sitting in Sanford, Florida? How would we do? What does our response at times like this say about us? How do we respond when there is brokenness, not just in Sanford, but all around us? A million questions ran through my mind late into the wee hours and still do.
I was not in the courtroom. Most of what little I know came from the news media. I cannot even begin to imagine the work of the judge, jurors and lawyers. What about Trayvon Martin's parents and George Zimmerman's parents? They had to relive hours of that dreaded night. The whole event was tragic for everyone in ways that defy all sense of our ability to comprehend.
I am going to trust the process and respect the work of the jury, but there is still something deeply disturbing about the events in Sanford. One man is dead, another is free.
And oh the questions: What if the roles were reversed and George were black and Trayvon white? What if George, a mixed raced individual, had a different last name like Lopez? Those are not questions for me to answer and they were not questions for the jury to answer. They were to decide murder in the second degree, beyond a reasonable doubt; making the best decision possible with what was before them.
Still nothing about this feels good. George Zimmerman is a free man, but will he ever really be free? He has taken a life and will live with that burden the rest of his life. A young man died, a young black man who had gone to the store to get a snack. What does this say about us? Should we not all bear some responsibility for creating or allowing a culture of violence, suspicion, racism, crime and tragedy to exist in our nation?
We cannot let this moment pass without searching for a teachable moment. What should be the church's response? What should be yours and my response? I found it fascinating that the lectionary for Sunday morning following this decision was from Luke 10:25-37, the story of the Good Samaritan. "You must love the Lord your God with your whole heart, with your whole being, with your whole strength, and with your whole mind, and love your neighbor as yourself." When the "legal expert" asked, "And who is my neighbor?," Jesus answered with the story of the Good Samaritan. Frederick Buechner tells this story this way…
When Jesus said to love your neighbor, a lawyer who was present asked him to clarify what he meant by neighbor. He wanted a legal definition he could refer to in case the question of loving one ever happened to come up. He presumably wanted something on the order of: "A neighbor (hereinafter referred to as the party of the first part) is to be construed as meaning a person of Jewish descent whose legal residence is within a radius of no more than three statute miles from one's own legal residence unless there is another person of Jewish descent (hereinafter to be referred to as the party of the second part) living closer to the party of the first part than one is oneself, in which case the party of the second part is to be construed as neighbor to the party of the first part and one is oneself relieved of all responsibility of any sort or kind whatsoever."
Instead Jesus told the story of the Good Samaritan (Luke 10:25-37), the point of which seems to be that your neighbor is to be construed as meaning anybody who needs you. The lawyer's response is left unrecorded.
Today, our response must not be left unrecorded. The list of "anybody who needs you" is long – Zimmerman, Trayvon's parents, a judge, six jurors, lawyers, those questioning, those hurting, etc. etc. etc.
My good friend and bishop of the Florida area, Ken Carter, said this in response to the decision, "The peace of Christ is, in the words of Parker Palmer, our 'birthright gift,' and if United Methodists are to make a difference in a violent and fractured world, we will learn again, in a countercultural way, what it is to be his disciples."
It is human to question at times like this, to scratch your head and wonder why. Times like this call for a double portion of patience and the ability to listen to the voices of everyone involved. What we know in the very depth of our soul is that compassion, love and grace trumps all else.
My prayer is for peace. It must come from God because I am certain that it must be the peace that passes all understanding, the kind of peace that is not humanly possible without God. The church must be the prophetic voice that rises above all.
The decisions made on that fateful evening cannot be unmade. Nor can the decision of the jury. What is done is done. But we would be remiss if we didn't come away with a firm resolve to "transform the world" as disciples of Jesus Christ, the Prince of Peace. The journey in the wilderness is not over, but the light of the world can lead into a better tomorrow.
Let there be peace on earth, and let it begin with me…..and you.
Blessings from the Wilderness,
Cynthia Fierro Harvey
There is no fear in love, but perfect love drives out fear; because fear expects punishment. The person who is afraid has not been made perfect in love. We love because God first loved us. If anyone says, 'I love God', and hates a brother or sister, he is a liar, because the person who doesn't love a brother or sister who can be seen, can't love God, who can't be seen. This commandment we have from him: Those who claim to love God ought to love their brother and sister also. 1 John 4:18-21(CEB)