April 30, 2013
Genesis 28:10-32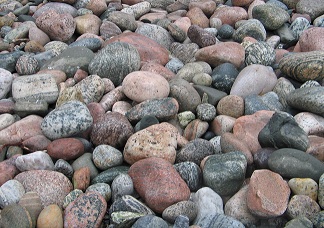 There are times in my life when I have been a rock collector. I particularly remember this when I am preparing to move, because I remember many of the times when I moved as a child, that I would be asked to whittle down the rock collection that sat on a shelf in my closet or was arranged in a pile on my dresser. I also remember my rock collections especially around Easter, because one of my favorite ways to organize them was in egg cartons, where each rock could have its own special niche, and I could write the description across from it on the inside of the lid - what it meant or looked like or reminded me of or where I found it.
Once when I was about 9 or 10 years old, our family went to Rich Mountain near Mena, Arkansas. My dad grew up in the valley just north of the mountain. It was on that trip where I discovered the beauty of the cuts in the rocks on the mountain, where paths and roads had been cut into the rocky steep hillside. We stopped on the side of the road in a parking area, where we could get out and walk to the guardrail with a magnificent sight on one of the scenic overlooks.
But when we turned to walk back to the car, I was overtaken by the beauty of a sheer rock face rising up across the road in a vertical wall, with jagged lines left from the blast marks in layers of color and texture, and a pile of rocky rubble at its feet. This was a rockhound's treasure trove, and I was more excited about this find and view than the panoramic vista at my back. I found a large rock there, cut in sharp flat angles with an earth-toned "rainbow" brushed across the surface.
I begged my dad that I might take it home, and he reluctantly lifted it (way too heavy for me), put it in the trunk of the car, and drove us home, car tilted slightly with the weight of my precious "rainbow rock" in the back corner of the trunk. When we got home, my rock was too big to be taken inside, but instead stayed outside on the front porch of our house. A couple of years later, we were preparing to move, and I remember my dad taking some time to talk with me about the beautiful marker that stone could be to stay on that porch, and we could leave the stone there and take with us the story of it, the story of when and where we found it and how we brought it to here.
I think I was discovering even then, one of the markers of "where I'm from," that powerful invitational phrase that Reverend Janice Virtue gave us clergy gathered recently for Tending Our Lives Together. I've lost count of the times since then that the phrase "where I'm from" has crossed my mind and lingered to guide and shape a conscious understanding of myself or someone else. In many ways that phrase is the bucket to a deep well of living water.
If Jacob were to describe "where I'm from," I'm thinking he might say,
"I'm from a crowded womb, indoor rooms,
Mama's boy, blessed joy.
I'm from fear of loss, count the cost,
Here's your meal, but here's the deal,
Claim my space, before Father's face,
Though he's blind, I don't mind,
Fake fur arms, surely there's no harm...
He can't see, but it's for ME.
Though I've won it, now I've done it –
Brother's angry, red with ire,
Must escape Beer-sheba shire!
Run for life, find a wife."
Jacob, too, chose a stone as a marker. Initially, it simply marked the place where he stopped, where he rested and slept, weary from the journey. As he slept, his dream was a vision, a gateway to the heavens, with stairs rising from the ground where his head rested near the stone, stretching to where a totally unsolicited blessing from God tumbled down upon him with promise of abundance of land and descendents and protection and all that any birthright- and blessing– hungry sojourner could ever desire.
Waking, Jacob took the pillow of a stone and stood it as a pillar to mark a holy place. This place had been marked before as Luz, or "Light" - which helps one see – and in this place, Jacob had actually seen the face of God, and marked it "Beth-El," or "House of God."
Maybe Jacob's stone is not so much "where I'm from" as it is "where I am now," since "where he's from" is not necessarily "where he's going," by the grace of God!
In my mind, I place a stone at Tending Our Lives as a marker of a seeing Jacob in a new light at this place called Luz, called Beth-El. Did I hear correctly that our facilitator goaded us to become more like Jacob, to "Grab" and "Cheat"? These are not things that I have sought to teach my son! As I heard her encourage us this direction, I found myself questioning the ethics of Rev. Virtue!
I've often preached of what a scoundrel Jacob was, of how it was only by God's grace, mostly invisible to him, and certainly misunderstood by him, that he was protected and blessed and made it through (and isn't that true of all of us?). But could it be that "Grabby" has something to show us? I have a cousin who often reminds, "In God's economy, nothing is ever wasted." So that initial stumbling block has become a place I have let my thoughts and awareness rest, and I can see some other ways to walk around this story.
As I reflect further, I see that Jesus himself shows us how to grab opportunities, seize the day (even if it is the Sabbath), and steal moments of real meaning. The difference, of course, is that with Jesus, it is not all about ME. Indeed, Rev. Virtue was pointing toward "grabbing the wisdom we need, wrestling with the challenges we face, and taking smart risks in the places we lead."
Even though Jacob saw in his "dream" a ladder, I agree with Cheryl Sandberg, author of Lean In, that "It's a Jungle Gym, not a Ladder." Isn't the image of jungle gym more fitting than a ladder, to describe what we need for a journey in the wilderness? I find it interesting that smooth-skinned, more-cook-than-hunter Jacob finds himself out in the wild. And I see Jacob as no natural backpacker. What propelled him out onto the trail? Was it fear? Or was it courage? Or was it something of each? Even in his yearnings and fumbling, something in Jacob was already pointing toward the holy.
Where we are from is not necessarily where we are going… but they are linked by where we are. It could be said that Jacob's faith and "intimacy" with God is in an immature and not fully formed place. If Jacob were to show up a few years later with Samuel, he might have named that stone "Ebenezer,"or "thus far the Lord has helped us" (I Samuel 7:12).
We build altars in places where we have been moved, but God may be calling for our lives to be moving altars. God is always about moving the stones we think are unmovable, whether they seal tombs or build altars.
The rock may mark the place we have encountered the holy, but the story is what carries us farther along the path God is leading. Where are you from? Where are you now? Where are you going? May our journeys continue to be moved with the blessing that moves and blesses others.