People of Hope, People of Prayer
April 22, 2013
Bombings. Explosions. Our hearts ache and our spirits grow weary.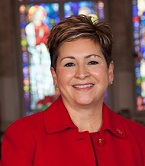 My daughter goes to college just 18 miles from West, Texas. Needless to say, her world has been rocked, literally and otherwise, as it has been for many of us. (she is perfectly safe and sound)
Immediately following the Boston bombings and Wednesday night's explosion, Facebook began to fill with comments and a call to prayer. In the midst of chaos and what seems to be a time of great uncertainty, I find comfort in knowing so many of the faithful turn to prayer and visions of hope. I have shared in different contexts a quote from one of my favorite writers, Macrina Wiederkehr: "It (hope) is a seed that grows wildly when it is nurtured." She goes on to say that we give hope by living out of our own hope. On days like today, all we can do and "be" is persons of hope. We are called to nurture the seeds of hope that they may grow wildly, giving hope by living out of our own hope. After all, we are resurrection people, people of light and life. We understand that nothing can separate us from the love of God; neither life, nor death, nor anything in all creation. Not even bombings and explosions separate us from the love of God. That, my friends, is HOPE worth nurturing.

Our hearts do ache for the people of Boston and now the people in West, Texas. I cannot even begin to comprehend what it must feel like to be a daughter, mother, grandmother or friend of those who suffer this day. The only right response is for us to join our hearts and mind in prayer.

Let it be said that the people called United Methodist in Louisiana are people of hope....people of prayer.

In him there is no darkness at all;
the night and the day are both alike.
The Lamb is the light of the city of God:
Shine in my heart, Lord Jesus.
In Christ,
Cynthia Fierro Harvey


---