2013 Mission u
Louisiana Conference UMW hosts 2013 Mission u
View photo album of last years event here.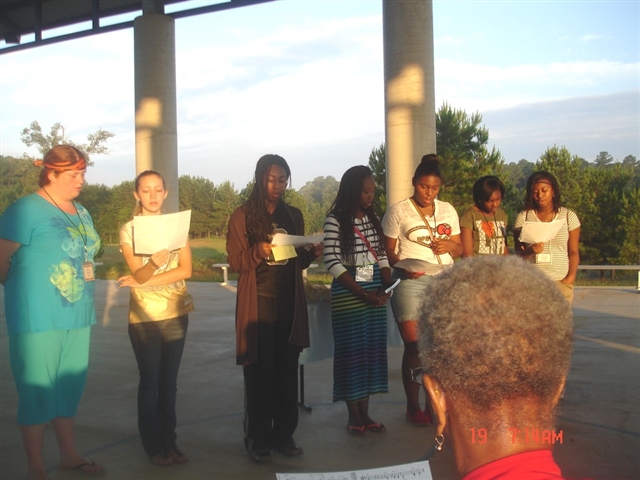 The 2013 Mission u: Learning Together for the Transformation of the World, held this past July at the Wesley Center in Woodworth, was a successful event for the Louisiana Conference United Methodist Women. One hundred thirty persons from across the conference--including 10 study leaders, 20 First Timers and eight youth--registered for the event.
Of the current six districts (Acadiana, Baton Rouge, Lake Charles, Monroe, New Orleans and Shreveport), Lake Charles was awarded a certificate for have the most participants registered.
The Wesley Center had a constant buzz of activities July 17-20 starting with Early Morning Praise, singing, the studies ("The Call", "Roma" "Poverty"), networking with the National Mission Institution representatives, browsing in the bookstore, Fun Night and Ice Cream Social, Closing Worship and Holy Communion. One of the highlights of Mission u on Thursday was the National Mission emphasis. During the morning plenary representatives from MacDonell United Methodist Children's Services, Dulac Community Center and UMCOR Sager Brown shared information about their agencies and set-up displays which allowed the participants to gather additional information throughout the day. Over $2000 was collected for Louisiana's National Mission Institutions plus various items from the Institutions' wish lists were brought to Mission u by participants across the conference for the representatives to take back.
There was a very informative display on the "Fair Trade" initiative. Thursday night Rev. Willie Berman, the Study Leader for Poverty and a GBGM Missionary, presented a power point presentation which highlighted the goals and accomplishments of his mission work in Mexico. Following the presentation, a generous mission offering totaling over $2500 was collected for the Manos Juntas Mexico Ministry.
Another interesting part of Mission u was "Taking It Home Day," an effort to recognize agencies across the conference that partnered with local UMW units and congregations engaged in successful mission efforts to face the challenges and issues resulting from poverty and migration/immigration. These agencies were recognized by paper fleurs-de-lis that were pinned to the round table. 
 The conference UMW team along with the participants were blessed by this year's Mission u and eagerly looks forward to Mission u 2014.