2012 Louisiana Annual Conference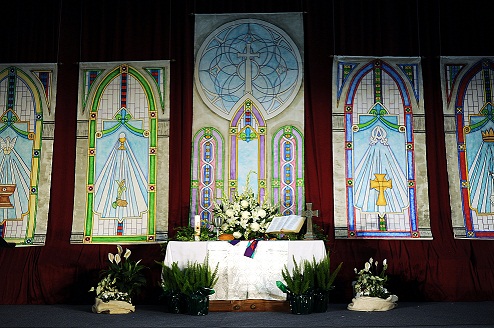 'Building Up Leaders' is 2012 Conference theme
Be sure to like us on our Facebook page for the latest photos and coverage of the 2012 Conference!
Louisiana Annual Conference members voted June 6 to accept an amended version of the 2013 conference budget proposed by its Council on Finance and Administration (CFA). The $7,431,578 budget, presented during the 2012 Louisiana Annual Conference in Shreveport, represents a 9.34 percent decrease from the 2012 budget.
The drastic cuts were achieved, in part, by the elimination of several Conference staff positions including the Director of Louisiana Volunteers in Mission and assistants; the Director of Multicultural Ministries and an assistant; and the Christian Education Director. The position of Director of Spiritual Formation was reduced from full time to part time.
The 2013 budget also reflects the elimination of one district, reducing the number of districts from seven to six.
Cuts were also made to the Conference Administration Fund, Conference Benevolence Fund and other line items.
Amendments to the proposed budget restored the position of Conference Youth Director and eliminated suggested cuts to the Wesley Foundation budget.
The original budget was a recommendation of the Strategic Vitality Task Force and approved by the CFA. The task force was appointed by Bishop William W. Hutchinson to address the issue of how conference ministries can be sustained and fully supported as the Louisiana Conference moves into the future.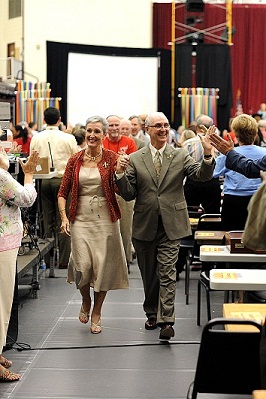 Bishop William Hutchinson and Mrs. Kay Hutchinson
The ministries of Bishop William W. Hutchinson and Mrs. Kay Hutchinson were celebrated throughout the conference, culminating in a service of sending forth on Wednesday afternoon.This was our last annual conference session with Bishop Hutchinson as our episcopal leader. We have been blessed for 12 years with his wisdom and pastoral leadership. 
View his Episcopal Address here
.
"Building Up Leaders for Building Up the World" was the theme for this year's event, with Ephesians 4:11-12 serving the inspirational scripture for the theme. Worship services and guest teaching sessions by
Rev. Adam Hamilton reflected this year's theme and focus. He addressed the conference on Sunday evening and Monday morning of conference with "Leading Beyond the Walls."
Our concern for the elimination of malaria worldwide was lifted up as churches and members celebrated the Louisiana Skeeter Run: Change the World, a conference wide event held April 21. More than $57,000 have been raised to date to benefit Imagine No Malaria, our denomination's global initiative to eradicate malaria.
A Commissioning and Ordination Service was held Tuesday, June 5 at First United Methodist Church in Shreveport. Ten persons were ordained elders and received into full connection with the conference. They are William Bradley Franklin, Cheri Lee Godwin, Derek Raymond Joyce, Todd William Mallory, Ashley Jalyn McGuire, William Brian Mercer, Lewis Malcolm Morris, Jr., LaSheena S. S. Simmons, Susie Hiss Thomas, and Sharon Duplantis Zehner (transition from Deacon Orders). Lauren Frazier-McGuin, Herbert Willard McGuin, Cheryl Shannon Sandifer and Dianne Piper Wooden were ordained deacon and received into full connection with the conference. Jonathan Michael Bevil, Chad David Brooks, Thomas Alan Johnson, Sonya Renee Lars, and Bradley Wilson Swire were commissioned as provisional elders. Linda Katherine Broderick was commissioned as a provisional deacon.
The recognition of Local Pastors, those completing the License to Preach School and those receiving lay ministry certification was held June 5 in the Gold Dome during the morning session of conference.
Fourteen people were recognized for completing the License to Preach School. They are Christen Ronnie Berg, Michael Caffery, Maribel Calvo*, Sharon Harris*, Jeff Hilliard*, John Korlaske*, Tiffanie Lyon*, Nancy Owens, Michael Palermo*, Kathy Pfleider*, Walter Pousson, Heidi Spell, Richard Turnley*, and Chris Winterman. Those receiving their first appointment are designated with an asterisk (*).
Bertrand Griffin II, Wade Mitchell Landeche, Daniel Lund, and Laura Elaine Nusbaum completed the License to Preach School in previous years and are receiving their first appointment this year.
Vera Johnson Alexander, Michael Wayne Clark, Renee Andre Deaton, Lisa Carole Fitzpatrick, and Jerry Glenn Wood were appointed as local pastors this past year ad-interim.
Recognized as a local pastor having completed the Course of Study School is Carol Daye Heard and Roy Jackson Price, III. Receiving professional certification in Spiritual Formation is Rev. Joseph Awotwi. Recognized as a certified lay minister is Phyllis Estella Jefferson. 
The 2012 class of clergy retirees were honored June 6 during the traditional "Passing of the Mantle" service, held in the Gold Dome on Centenary College's campus in Shreveport. Rev. J. Roddy Taylor represented the retiring class and placed the ceremonial mantle over the shoulders of Rev. Brad Franklin, who represented the new full member class.
The members of this year's retiring class included the following persons: Revs. Johnie Adkins, Jr., Patricia Bates, Dale Branch, Samuel Calvo, Steven Caraway, Rita Chiasson, Emmett Collins, Carole Cotton Winn, Charles Floyd, Jr., Carol Heard, Roger Lathan, Ellen Montegudo, Owen Peyton, William Strawbridge, J. Roddy Taylor and Fannie Thompson.